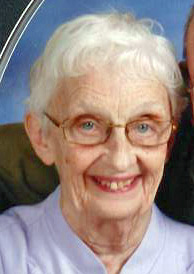 Ramona Nutting, 85, passed away peacefully Saturday, October 20, 2018, at The Manor in Morrisville with her family by her side. She was born November 8, 1932, in Burlington the daughter of Raymond and Marion Myott Russell. Ramona married John Nutting on August 17, 1958, at St. John's in-the-Mountains Episcopal Church in Stowe.
Ramona was a 1950 graduate of Stowe High School and attended Johnson Teacher's College and Burlington Business College. She was employed as a secretary at Harwood Union High School for 16 years and worked at the front desk at the Holiday Inn for seven years.
She was an active minister's wife for many years and was a caregiver to many and was always willing to help whenever and wherever help was needed. Ramona enjoyed traveling to various places throughout North America and Europe with John over the years. She also enjoyed spending time with her grandchildren as much as possible, as any loving grandmother would. Ramona enjoyed bowling and developed a lot of lasting friendships through the many leagues and tournaments she participated in over the years.
She is survived by her husband of 60 years, Rev. John Nutting; their children, Vicki Gibson and husband Ronald of Alexandria, VA, Stephen Nutting and wife Jane of Elmore, and Emily Horn and husband Mark of Paonia, CO; and grandchildren, Ethan Nutting, Sierra Nutting, Travis Nutting, Apryl Gibson, Carly Horn and Matthew Horn.
A memorial service will be held Saturday, October 27, at 11 a.m. at Second Congregational Church in Hyde Park. Visitation will be Friday, October 26, from 5 to 7 p.m. at Faith Funeral Home, 165 Brooklyn Street, Morrisville. A private burial will be in the Riverbank Cemetery in Stowe.
In lieu of flowers, contributions may be made to your local church or local food shelf.
Faith Funeral Home is assisting the family with arrangements. Online condolences may be made by visiting faithfh.net.