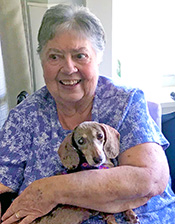 Irene M. Eastman, 83, a longtime resident of Moretown, passed away in the comfort of family at Woodridge Nursing Home in Berlin on Monday evening, October 15, 2018. Born in Waterbury Center on July 6, 1935, she was the daughter of the late "Ruby" and Delia (Garrett) Raymond. On December 25, 1953, she married Arnold F. Eastman Sr. in Waterbury Center. Arnold predeceased Irene on April 12, 2011.
Irene was a 1953 graduate of Waterbury High School. Following her marriage, she was busy and happy as a homemaker and raising her family. Following, Irene went to work at the Waitsfield Elementary School cafeteria as a cook for several years and then later worked at the Moretown General Store. For the next 30 years Irene was employed by the state of Vermont Tax Department in Montpelier where she served as a supervisor of revenue processing from which she retired. During this time, she also assisted her husband in operating Eastman Rubbish Removal that served the greater Mad River Valley.
Irene's memberships included Moretown United Methodist Church, the former Morning Star Chapter 23 Order of the Eastern Star and the Moretown Volunteer Fire Department Auxiliary. In her leisure time she enjoyed knitting, a good crossword puzzle, camping with Arnold in York, Maine, and Lake Dunmore as well as traveling throughout the continental United States and Hawaii. Known for her exceptional culinary skills, Irene and her family enjoyed weekly Sunday dinners from her home. She is lovingly remembered for how important family was to her and the time spent together.
Irene is loved and mourned by her children, Sherry Howes and her husband Duane of Moretown, Arnold F. Eastman Jr. and his wife Heather of Duxbury, and Randy Eastman and his wife Dale of Port Richey, FL; six grandchildren and seven great-grandchildren; her canine best friend, Maggie Jo; as well as nieces, nephews and extended family. Irene was predeceased by two sisters, Reba Bouchard and Shirley Durett, and two brothers, Henry Raymond and Phillip Raymond.
As it was Irene's wish, private graveside services for family will be held from the Waterbury Center Cemetery. Memorial gifts would be appreciated to the Mad River Valley Ambulance Service, P.O. Box 305, Waitsfield, VT 05673, or to Moretown United Methodist Church, P.O. Box 516, Moretown, VT 05660. Assisting the family is Perkins-Parker Funeral Home and Cremation Service in Waterbury. To send online condolences visit www.perkinsparker.com.