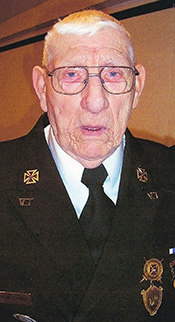 Eugene C. "Dutch" Corliss, 84, passed away in the comfort of his home on Friday, October 12, 2018. Born in Fayston on March 27, 1934, he was the son of the late Percy L. and Elsie M (Guyette) Corliss. On August 4, 1960, he married the former Mildred A. Shover in Warren. Mildred predeceased Eugene on March 1, 2010.
Eugene attended Waitsfield High School and at the age of 17, enlisted in the U.S. Army. For the next 24 years, his military career included service during the Korean and Vietnam Wars and he was discharged at the rank of sergeant first class in 1974. Following, Eugene was employed at the Vermont State Hospital in Waterbury for 20 years as a psychiatric technician, from which he retired. Not one to be idle, Eugene took great pleasure in working with his son Ron in his excavating and landscape contracting business.
Eugene was a longtime and dedicated Freemason. He was a member and past master of Winooski Lodge 49 F&AM in Waterbury. In addition, he served as past district deputy of the Grand Lodge of Vermont, was past grand high priest of the Grand Royal Arch Chapter of Vermont, was a past grand master of the Grand Council of Vermont, was the past grand commander of the Grand Commandery of Vermont as well as a member of the Scottish Rite and the Shrine. His other memberships included the Independent Order of Odd Fellows where he served as past noble grand of Valley Lodge 16 of Waitsfield and he was a member of the Harry N. Cutting American Legion Post 59 of Waterbury.
In his leisure time he enjoyed deer hunting, fishing, boating and touring with his wife, Mildred, throughout the U.S. with their travel trailer.
Eugene is survived by his sons, Ronald Corliss and his wife Janet Doyle of Waterbury, Richard Corliss of Moretown, and Steven Corliss and his wife Barbra of Waterbury Center; three grandchildren, James, Craig and Steven Corliss; two great-grandchildren, Wyatt and Cooper Corliss; a brother, Leon Corliss of Arizona; as well as nieces, nephews and extended family. Eugene was predeceased by a son, James Corliss; a sister, Charlotte Corliss; and four brothers, Charles, Leroy, Roger and Clifton Corliss.
A celebration of Eugene's life will be held from Wesley United Methodist Church in Waterbury on Saturday, October 20, 2018, at 11 a.m. with a reception to follow in the church dining room. Inurnment will take place in Hope Cemetery in Waterbury. For those who wish, memorial gifts would be appreciated to Winooski Lodge 49 F&AM, P.O. Box 186, Waterbury, VT 05676. Assisting the family is Perkins-Parker Funeral Home and Cremation Service in Waterbury. To send online condolences visit www.perkinsparker.com.