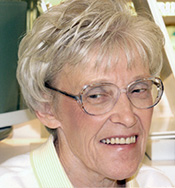 Melba C. Long, 85, of Warren, Vermont, passed away in her sleep on September 23, 2018, with her family, Marcia (Stanclift) Brooks, Andrew Metayer and Chad Stanclift by her side.
She was born on March 20, 1933, in Warren, Vermont, the daughter of the late Roy E. and Mildred J. Long. Her siblings included the late Glee (Long) Brooks, Jerome Long and Sidney Long.
During the last 38 years, her niece Marcia was her legal guardian. They all enjoyed taken trips together, to California, Texas and especially spending several winters in Florida. Melba kept a special place in her heart for Marcia's children, Chad and Chelseam and treated them as if they were her own children. She enjoyed dancing, singing, riding her three-wheel bicycle and entertaining the many children in the area.
She is survived by her two sisters, Gloria Currier and Pauline Gallagher of Warren, nieces, nephews and great-nieces and nephews.
There will be a (graveside committal service) at Warren Cemetery at noon on Sunday, October 21, 2018. A reception at the Warren United Church in the Emma Ford room follows. In lieu of flowers please donate to the Mad River Valley Ambulance Service.