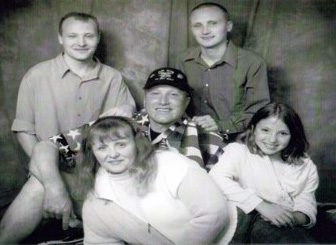 People in picture are top: Kristopher and Brett Kingsbury; center, Kris Kingsbury; bottom, Margaret and Mariah Kingsbury.
Kris Robert Kingsbury, of Salt Lake City, UT, and Warren, VT, born on May 9, 1961, in Montpelier, Vermont, to Patricia Mae Rice (Ketchum) and the late Robert Elwin Kingsbury, passed away at age 57 on September 3, 2018, in Burlington, Vermont. Kris graduated from Harwood Union High School in 1979, National Institute For Automotive Excellence in 1991, and Service School of Command in 1984.
From 1984 to 1990, Kris served in the U.S. Navy and he also worked in the auto mechanics industry as an ASE certified mechanic at Mobile Mechanic, Foster Motors and Pierces Auto, town of Warren, until he retired in 2015. Kris was married to Margaret Jean Kingsbury. He was preceded in death by his grandmothers, Janice Kingsbury and Mae Ketchum; and grandfathers, Elwin Kingsbury and Warren Ketchum.
Kris is survived by his sons, Kristopher Earl Kingsbury and Brett Allen Kingsbury; daughter, Mariah Patricia Taylor; brother, Scott Kingsbury; grandchildren, Roman Arthur Duprey and Wayne Burton Barbour; aunts, Joan Andrews and Victoria Kingsbury; and uncle, Eugene Grandfield. He also leaves behind his adored pet, Califlower.
Kris loved spending time with his family and playing with his grandsons. Kris enjoyed playing guitar and writing songs. and Kris enjoyed singing and sharing time with his friends. Kris in 2010 and 2011 volunteered at the Vermont State Hospital. He also made contributions to the ALS Association. Kris will always be loved and remembered through our laughter and our tears.
He was a member of AA and the American Legion. Friends and family are welcome to attend the celebration of life service on Sunday, October 21, 2018, at 1 p.m., at the Senior Center, 5308 Main Street, Waitsfield, VT 05673. Kris and his family would like to give sincere thanks and appreciation to all whom have helped them during this difficult time. A great thanks and appreciation goes to Perkins Funeral Home in Waterbury, Vermont.