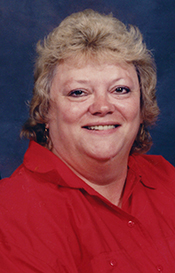 Wendie L. Bruce, 70, passed away in the comfort of her home and family on Saturday evening, November 17, 2018. Born in Montpelier on January 11, 1948, she was the daughter of the late Gerald and Helen (Barnes) Bailey. On December 16, 1976, she married Ronald H. Bruce in Middlesex. Wendie was previously married to the late Frederick Armstrong Jr.
In her younger years, Wendie worked with disabled children and later often spoke about working at a McDonald's potato factory in Idaho. Residing back in Vermont, she was employed at Vermont Plastics in Montpelier before embarking on a 20-year career with the Vermont Department of Labor as an analyst, retiring in 2000. Following her retirement, she and her husband Ronald enjoyed traveling in their RV and spending time at their camp at Kings Bay on Lake Champlain for many years, enjoying great friends, a love for fishing and leisure boating. She was an avid crafter, especially making jewelry, oil painting and crocheting. Her creative ability has given the family treasured paintings, fantastic jewelry and beautiful handmade gifts.
Wendie believed and lived in "paying it forward." She would often pay for a stranger's items in a store or give a child a toy. She gave to people whenever she could, including her family. She was truly a giver and never asked for anything in return.
The second biggest love in her life, next to her family, was her service dog, Linny. She took Linny everywhere and everyone new Linny! People were delighted to see them wherever they went. She was the "the nice lady with the cute dog." Wendie was gracious, loving, kindhearted and silly. Her memberships included the Vermont Antique Farm Machinery Association and the Vermont Gas and Steam Engine Association, and she was a charter member of the Mad River Ridge Runners snowmobile club.
The family wishes to thank all the amazing staff at Central Vermont Home Health and Hospice for their amazing care and compassion for Wendie in her final days.
Wendie is survived by her husband of nearly 42 years, Ronald Bruce of Moretown; her daughter, Robin Elliott and her husband Michael Elliott Sr. of Moretown; her stepdaughters, Laurie and Sonia Bruce, both of Newbury; five grandchildren, Michael Elliott Jr. and his partner Jenna Cutler, Eliza Grace and her husband Shane Grace, Aaron Elliott, Brittany Bruce-McEwan, and Cassidy Harrod; two great-grandchildren, Daisy Proof-Grace and Kaylee Dionne; her siblings, Wanda Calderon and her husband Miguel of Chicopee, MA, and Gerald Bailey of Berlin; as well as many beloved nieces, nephews and extended family. Wendie was predeceased by an infant son, Scott Armstrong; a sister, Carole Barclay and her husband Nelson; and her mother and father-in-law, Cora and Clifford Bruce.
A memorial service will be held from Perkins-Parker Funeral Home in Waterbury on Saturday, November 24, 2018, at 2 p.m. where friends may call from 1 p.m. until the hour of the service. For those who wish, memorial gifts would be appreciated to Central Vermont Home Health and Hospice, 600 Granger Road, Barre, VT 05641 (www.cvhhh.org). To send online condolences visit www.perkinsparker.com