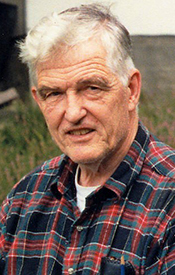 Donald Alexander Morgan Mackay of Pleasantville, NY, and Waitsfield, VT, passed away at home in Waitsfield on November 24, 2018, surrounded by family who had gathered for Thanksgiving. Donald lived a full, healthy and active life almost until his last day.
Donald was born on February 8, 1926, in Edmonton, England, to Scottish parents Mary (Maclennan) and Alexander Morgan Mackay, who had just moved to London. Donald, son and grandson of British policemen, was the first in his family to go to college. Donald, or "Jock," as he was sometimes called, won a full scholarship to Lincoln College, Oxford University, where he was a keen oarsman and earned his blue, rowing for the university in the 1947 Oxford-Cambridge boat race. To his everlasting chagrin, Oxford's boat was swamped in rough conditions and Cambridge triumphed that day.
After graduating in 1948 with a BA in chemistry, Donald came to the U.S. to continue rowing and his academic career (possibly in that order). While working toward his Ph.D. in organic chemistry at Yale University (1954), he met fellow Ph.D. student Lottie Bohm. Lottie and Donald were married on June 30, 1952. In 1957, they moved to Pleasantville, NY, where they raised their four children, Kathryn, Alastair, Ann and Janet. They bought a house in Waitsfield, VT, in 1964, which became the family hub and site of many wonderfully chaotic Thanksgivings, Christmases and other gatherings in the tradition of Highland hospitality he treasured.
Donald was an inventor on 40 scientific patents. At Life Savers, Inc., he rose to vice president of research and development. His children enjoyed their father bringing home experimental flavors and formulations of soft drinks, chewing gum and candies. Later, he was vice president of Gillette Research and president of Applied Microbiology and a consultant for the National Institute of Dental Research. He was a prolific writer, penning essays ranging from his childhood during World War II to all things heather, serving as president of both the Northeast and North American Heather Societies, as well as editor of his beloved Heather News.
Donald was predeceased by his eldest daughter, Kathryn, in 1979; by his wife of 49 years, Lottie Elizabeth (Bohm) Mackay, in 2001; and by his younger brothers, Alastair and Ian. At 92, he outlived most of his generation, with the notable exception of his sister-in-law, Maria Bohm Jacobson. Donald leaves his son, Alastair Mackay of Towson, MD; daughter, Ann Mackay of Waterbury, VT; daughter, Janet Mackay Wilson of Essex Junction, VT, nine grandchildren, Fraser, Finlay, Clare, Thomas, Innes, Katherine, Helen, Henry and Elizabeth; nieces, nephews, other far-flung family members; and his longtime companion, Elinor Cohen.
A memorial service will be held in Pleasantville, NY, later this winter, with a graveside interment of ashes at the East Warren (VT) cemetery in the spring. In lieu of flowers, contributions may be made to the Kathryn Mackay Scholarship Fund at St. Lawrence University (Canton, NY), the Mad River Valley Ambulance Service (Waitsfield, VT), or the Northeast Heather Society. To send online condolences please visit www.perkinsparker.com.