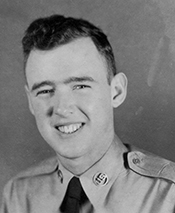 Ronald C. Graves Sr., 83, former longtime Waitsfield resident, passed away peacefully in the presence of his son and daughter at Mountain View Center in Rutland, Vermont, on November 26, 2018, after many years battling COPD.
As a resident of Waitsfield, Ron graduated from Waitsfield High School in 1953 and enlisted in the U.S. Air Force shortly thereafter serving as a training officer following the Korean War. On December 31, 1955, he married Augusta (Gussie) Brothers in Waitsfield. Born in Montpelier, VT, on July 9, 1935, he was the youngest of five children of William John Graves and Carrie Etta Bover.
Following his military service, Ron worked in accounting at the Mad River Glen ski area for many years prior to partnering with Dick Brothers in Brothers Building Company, which they ran successfully until 1998 and continues as a family business run by his son and partner Derrick Martens. He was also influential in developing many real estate ventures in the community including the Mad River Green Shopping Center.
He served his community in several ways including as one of the original founding members of the Mad River Valley Rotary Club, board chairs of Fayston Elementary School and Harwood Union High School, Howard Bank Board of Directors, town of Fayston Select Board and Fayston town moderator for many years. Affectionately named "Peeps" by his granddaughters, Ron was an avid baseball fan. He spent many seasons coaching Little League girls' softball and cheering on the Boston Red Sox on the first base line at Fenway Park.
Ron is survived by his daughter, Deb Jones of Fayston; his son, Ron (Freddie) Graves Jr. of Fayston; five granddaughters, Megan (Rob) Collett of Colorado, Erin (Jake) Bowman of Florida, Lindsey (Mike) Riley of Massachusetts, Laura (Curt Maes) Graves of Florida and Eliza Graves of Waitsfield. He is also survived by seven precious great-grandchildren, Jenna, Evan, Isabelle, Beckett, Ava, Michael and Charlotte. He is preceded in death by his daughter, Donna Graves; his brothers, William "Bover" Graves and Bradlee Graves; and his sisters, Barbara Story and Beverley Mobus.
A graveside military service will take place at the Village Cemetery, Waitsfield, in the spring of 2019. All are welcome to attend in celebration of Ron's life. A time will be announced at a later date. Donations may be made to the Mad River Valley Rotary Club or Mad River Valley Little League. Assisting the family is Perkins-Parker Funeral Home and Cremation Service in Waterbury. To send online condolences please visit www.perkinsparker.com.