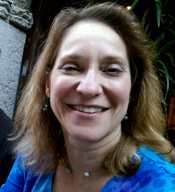 Liisa Laaspere Colby, 58, passed away on November 29, 2018, from ALS (Lou Gehrig's disease). Months following her diagnosis she moved from Waitsfield, VT, to Lebanon, NH, to be close to family.
Liisa and her husband, Geoffrey Colby, moved to Waitsfield in 2009. Liisa was an active member of the Valley Arts community and one of the founding artists of the Starving Artists Gang Studio and Gallery. She will be remembered for her positive energy and willingness to help.
Born in Ithaca, NY, Liisa grew up in Norwich, Vermont, graduated from Hanover High School and earned a BFA in illustration from Rhode Island School of Design. She had a successful career as a marketing executive and event planner, including 17 years in the electric power industry.
Being part of the Mad River Valley community gave Liisa incredible joy. She loved walking in the woods and on area roads. Her years in Waitsfield were her most productive years as an artist.
She leaves behind her husband, Geoff; mother, Suzanne; brothers, Hans and Jaan and their wives Melissa and Amy; nieces, Lucy and Kirsten; and nephews, Tristan and Glenn.
A private family memorial is planned. Those wishing to remember Liisa are asked to make a donation to Valley Arts or Vermont Adaptive Ski & Sports.