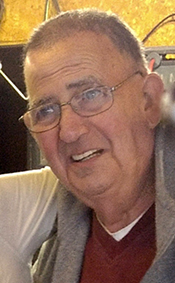 Ronald Everett Ward, 84, a lifelong resident of Moretown, passed away at the Lincoln House in Barre City on Wednesday morning, December 5, 2018. Born in Moretown on November 16, 1934, he was the son of the late Forrest and Harriet (Shonio) Ward. On July 30, 1954, he married the former Vera O. Luce in Warren and enjoyed 62 years together. Vera passed away on October 10, 2016.
Ron attended school in Moretown and was a graduate of Waitsfield High School. As a young man entering the workforce, he was employed at the former Weyerhaeuser Co. in Hancock before working 12 years for Barre City Creamery. There he started as a truck driver and later was a field agent doing quality control. In 1969 Ron went to work at Brothers Building Co. in Waitsfield as a plumber, receiving his Master Plumbing license in 1973. He retired in 1999.
Ron served his community of Moretown as a member of the volunteer fire department, tax collector and first constable. He was a founding member of the Mad River Ridge Runners snowmobile club where he served as a director and vice president. In his leisure time he enjoyed hunting, going to deer camp with the boys in NH, fishing, snowmobiling, auto racing and camping at Kampersville.
Ron is survived by his children, Brian Ward of Moretown, Kathy Carton of Warren and Calvin Ward and his wife Sharon of Moretown; three grandchildren, Colin Ward of Providence, RI, Caitlin Quenneville of Moretown and Stephen Carton of Stowe; two great-grandchildren, Mason Quenneville and Jaxon Carton; a sister, Lorraine Downer of Morrisville; a brother, Kenneth Ward and his wife Rosie of Barre; as well as nieces, nephews and extended family.
Graveside services will be held this spring in Mountain View Cemetery in Moretown at a date and time to be announced. For those who wish, memorial gifts may be made to the Mad River Valley Ambulance Service, P.O. Box 305, Waitsfield, VT 05673. Assisting the family is Perkins-Parker Funeral Home and Cremation Service in Waterbury. To send online condolences please visit www.perkinsparker.com.