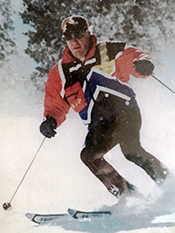 Longtime Waitsfield homeowner and avid skier Marty Scanlon passed away peacefully at his Cape Cod home at the age of 92. Marty first came to The Valley in the year that Mad River Glen opened in 1948 and he instantly fell in love with the area. Originally from Brooklyn, NY, he made the then seven-hour trip to The Valley with other like-minded NY skiers nearly every weekend from that time forward. After moving to Framingham, MA, with his wife, Jeanne, they eventually purchased land and built a ski chalet in Waitsfield. Their daughters, Susan Buchanan and Karen Brown, along with their five grandchildren grew up skiing at both Mad River and Sugarbush. Most weekends their home was filled with family and friends all of whom shared Marty's passion for skiing. Marty continued skiing until the age of 84.
Marty was born and raised in Brooklyn, NY. At the age of 17, he volunteered into the Naval Air Force and served in WWII. Upon the end of the war, he went on to get his degree at Brooklyn College. Marty became involved in theater, moving to Washington Square, eventually becoming one of the original founders of the Circle in the Square Theater in lower Manhattan. At the same time, he discovered his love of skiing, learning to ski from Austrian skier Hannes Schneider. He regularly took busloads of skiers from NY to ski country throughout the winter months.
Marty met and married Jeanne Scanlon, his wife of 65 years, in 1953. Thereafter, he soon found the ocean calling. He served as first mate on the 90-foot sailing schooner The Northwind, which took guests up and down Long Island Sound throughout the summer months. Marty and Jeanne later moved to Framingham, Massachusetts, where they raised their two daughters, Susan and Karen, and Marty opened his own insurance agency, which he ran successfully until 2017. They purchased their first boat in 1968, sailing the waters of Nantucket Sound from May until October. With family and friends, they vacationed regularly in the British Virgin Islands to sail and the Rockies for skiing. With daughter Susan, they also owned and operated Maplewood Farm, a successful dressage training barn in Berlin, MA.
Marty is survived by his wife, Jeanne; daughters and sons-in-law, Susan and Glenn Buchanan and Karen and Ken Brown; and grandchildren, Tiffany Steinhof, Jason Steinhof, Megan Simisky, Matt Brown and Cassina Brown. A private family celebration of life will be held before Christmas. In lieu of flowers, please consider donations to SkiDuck.org, Skiing and snowboarding for Disadvantaged and Underprivileged Children and older kids.