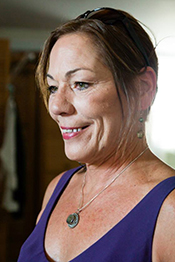 Elaine (Eramo) Fuller, 60, lately of Topsfield, MA, formerly longtime resident of Warren, VT, passed peacefully away on November 20, 2018, among her children and their spouses after a long struggle with cancer. Born September 29, 1958, in Melrose, MA, she was the second of three children to the late Edward G. Eramo Jr. and Wendy (MacCaughey) Eramo. Elaine grew up between Wakefield, MA, when it was the "last frontier" of the rapidly developing Boston suburbs, and Granville, VT, where her parents were rejuvenating a 1700s hill farm. Whether Elaine was on Montrose Avenue or in the Green Mountains surrounding Granville and Warren, enjoying nature's beauty and the company of friends fueled her spirit of adventure for the rest of her life. She was always up for a beautiful experience with good people.
Elaine moved to Granville, VT, in 1981 where she started a family with the birth of her daughter, Wendy, in 1983. She moved to East Warren, where she and Jeff Fuller welcomed their first son, Adam, in 1989, followed by Thomas in 1992. Ever the hard worker, Elaine operated a successful business while raising her three young children, as well as volunteering at the Warren Elementary After-School Program. An epicurean at heart, she worked many years managing large catering events. Later, she began an administrative role at the town of Warren, and being a trusted member of the community, she was encouraged to run for elected office as town treasurer. She won and served the town for some 19 years before retiring to Wolfeboro, NH.
While in Wolfeboro, Elaine continued to serve others by being elected to the board of her Housing Community and as treasurer before relocating to Topsfield, MA, to continue treatment at Dana Farber in Boston, be closer to the ocean (a longtime love), and be near her extended family. She was thrilled to return home.
Elaine spread kindness and grace wherever she went. She taught her children about honor, family, duty and what it means to serve something greater than yourself. She loved her neighbors, sharing good food and doing things with care and attention. She laughed fully, loved deeply and was generous in a way seldom witnessed. She was a constant supporter of the USPS through her abiding commitment to the handwritten letter. She was known to throw legendary Halloween, Christmas and dinner parties. Elaine was brave, thoughtful and true. She leaves behind a powerful legacy of service in her communities.
She is survived by her daughter, Wendy (Fuller) Geller, and son-in-law, Alex Geller (Montpelier, VT); son, Adam Fuller and spouse Calli Willette (Burlington, VT); and son, Thomas Fuller (Fayston,VT); as well as sister, Lee (Eramo) Broulliard, and brother-in-law, Terry Broulliard (Brandon, VT); cousins, Kim (MacCaughey) Whitener, Denise (MacCaughey) Pelletz and Michele (MacCaughey) Wood; uncle, Ozzie MacCaughey; aunt, Donna (Eramo) Sullivan; along with nieces and nephews; as well as many grandnieces and grandnephews. Memorial services will be held January 5, 2019, at First Congregational Parish Church in Wakefield, MA, at 11 a.m., with a reception to follow. In lieu of flowers, the family asks that charitable contributions be made in Elaine's name to the Mad River Valley Community Fund, P.O Box 353, Waitsfield, VT 05673, or Kaplan Family Hospice House, 78 Liberty Street, Danvers, MA 01923.