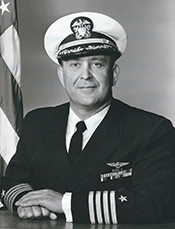 Captain Douglas James Finlay (U.S. Navy, Retired), 96, passed away in the comfort of his home and family on Friday, December 7, 2018. Born in Pawtucket, RI, on September 30, 1922, he was the son of the late James R. and Sarah "Sadie" (Murray) Finlay.
Doug is survived by his wife of 74 years, Betty Finlay of Moretown; his son, Douglas Albert Finlay and his wife Patty of Aptos, CA; his daughter, Bonnie Rae Bossier of Moretown; granddaughter, Mychelle Salbashian; and great-granddaughters, Kylie and Landy; grandsons, Travis Finlay and his wife Jerusha and Zachary Bossier and his companion Christina Kingston; and great-granddaughter, Ryleigh Bossier. His sister, Jessie Johnson, predeceased him.
A celebration of Captain Douglas Finlay's life will be held from Waterbury (VT) Congregational Church on a date and time to be announced. His ashes will be scattered at sea in the Navy tradition. For those who wish, memorial gifts in lieu of flowers would be appreciated to the charity of one's choice. Assisting the family is Perkins-Parker Funeral Home and Cremation Service in Waterbury, VT. To send online condolences and to read a more complete obituary please visit www.perkinsparker.com.