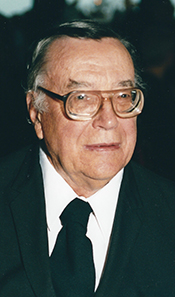 Everett Charles Maynard, 95, a longtime and well-known dairy farmer, passed away peacefully in the comfort of his grandson and pastor on Monday, March 4, 2019. Born on November 6, 1923, in Duxbury, he was the son of the late Ralph E. and Annie (Morse) Maynard. On December 4, 1948, he married the former Ella May Morse in Moretown. Ella predeceased Everett on February 4, 2018.
From about 1925 through 1946, Everett's family dairy-farmed, logged and tapped as many as 7,000 maple taps on the Roxbury mountainside in East Warren at the farm that is today the Roth barn and included the land that is now the Warren-Sugarbush Airport. Everett graduated from Waitsfield High School and then attended the one-year agricultural school in Randolph Center that is today Vermont Technical School. Not long after returning home to the East Warren farm with his agricultural degree, the Maynard family bought three separate properties owned by the John Bisbee family in Moretown, all bordering the Mad River.
In 1946, Everett and his father, Ralph, combined the first three letters of their last name along with the first three letters of the Bisbee name and began Bis-May Farms Holsteins, milking "about 30 cows and tapping about 3,000 sugar taps." In 1960, Everett and his wife, Ella, bought the farm from Ralph and Everett's stepmother, Carrie. Everett served for many years on the Vermont Farm Bureau, as a delegate and member of the Sire Selection Committee for the Eastern A.I. Cooperative based in Ithaca, New York. He and Ella together worked to begin and then lead the first local 4-H dairy, gardening and sewing groups in the Mad River Valley for rural youth. He served in several leadership capacities at Moretown United Methodist Church and Mad River Valley Lodge #77, F&AM in Waitsfield.
Of equal importance to Everett was his service to the communities of the Mad River Valley. He worked tirelessly throughout the 1960s and early 1970s, first on the Moretown school board and then representing Moretown in the formation of what became Harwood Union High School in Duxbury. It was Everett's belief that a middle/high school was needed to join the towns of Waterbury, Duxbury, Moretown, Waitsfield, Warren and Fayston and provide education for the coming generations.
Everett is survived by his children, Jean Glezen of Whitney Point, New York, Donald Maynard and his wife Katherine of South Burlington, Gordon Maynard and his wife Jeannine of Rathdrum, Idaho, Kendall Maynard and his wife Barbara of Moretown; 11 grandchildren, Cheryl Glezen Donnelly, David Glezen, Wendy Glezen Morgan, Amy Glezen, Israel Maynard, Esther Maynard George, Kai Maynard, Nathaniel Maynard, Zebulon Maynard, Rosanna Maynard Woodard and Myranda Maynard Kim; 10 great-grandchildren; as well as nieces, nephews and extended family. Everett was predeceased by a brother, Robert L. Maynard Sr., his stepmother, Carrie Howes Maynard, and stepbrother, Harold Howes.
A service celebrating his life will be held at Moretown United Methodist Church on Saturday, March 16, 2019, at 11 a.m. with a reception to follow. Later inurnment will take place in Mountain View Cemetery in Moretown. The family requests that memorial gifts would be appreciated to Central Vermont Home Health and Hospice, 600 Granger Road, Barre, VT 05641 (www.cvhhh.org), the 4-H Foundation or Heifer International. Assisting the family is Perkins-Parker Funeral Home and Cremation Service in Waterbury. To send online condolences please visit www.perkinsparker.com.