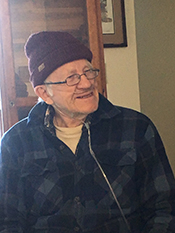 William Welton Thomas Johnson, 80, of South Pleasant Street, Bradford, VT, passed away peacefully on Sunday, January 20, 2019, at the Jack Byrne Center at DHMC in Lebanon, NH.
Born on October 12, 1938, in West Fairlee, VT, he was the son of William T. and Alice M. (Tilden) Johnson. He grew up on the family farm in Fairlee.
He liked the Rare Bird and Animal Farm in Fairlee and worked there during his high school days. He later took a job working as a custodian at Dartmouth College for a dozen or so years before attending the National School of Meat Cutting in Toledo, OH.
After schooling, he worked as a meat cutter at Gould's Market in Piermont, NH, before doing the same at Mehuron's Market in Waitsfield, starting there in the early 1980s. He became the store's meat department manager in 1995, serving in that position until he retired in 2003. Bill continued to work at Mehuron's after retiring, filling in part time when needed, until health issues forced him to stop in 2016. He also worked as a custodian at Fayston Elementary (2003-2009) and Moretown Elementary (2007-2016).
Bill enjoyed the outdoors immensely. Trout fishing, especially fly fishing, was his real passion. For years, he and some friends made annual trout treks to Quebec. He took many leaf-peeping rides in the fall and snowmobiled for years. He took annual trips to Maine because anything worth buying is bought from LL Bean. Recently, he planned a trip to Florida, a trip he could not take because of illness.
Bill loved cats, having several over the years, most recently Muffin. The love he had for his cats was as strong as the love he had for family and friends. Known for his loyalty to friends and family, Bill never lost his way for getting those around him to smile. You might get a can of Campbell's Tomato Soup for Christmas or a single stick of firewood if you owned a woodstove. He would give each gift, grinning from ear to ear until you returned the same, or just laughed.
Bill developed a powerful friendship with Bill and Becky Robinson, Warren, a friendship that was hugely important and helpful during Bill's illness over the past two years, even helping Bill through his dying process. Bill and Becky's love, support and loyalty to Bill was like none other. That friendship and love as well as the love and support from his family helped Bill die a happy man.
Besides his parents, he is predeceased by brothers, Beverly "Dusty" Godfrey and Elwood "Woody"; a sister, Betty Cross; and an infant sister, Lucille.
Survivors include two brothers, Raymond "Ray" Godfrey of North Port, FL, and Wayne Godfrey (Linda) of Piermont, NH; a sister, Lynda Goodrich of Newbury, VT; and several nieces and nephews.
The funeral service will be held at 1 p.m., Saturday, January 26, at the Bradford Congregational Church, with a reception following in the vestry.
Burial will be in the spring at the Fairlee Village Cemetery. Memorial donations may be made to the Jack Byrne Center. Arrangements are by Hale Funeral Home, 187 Upper Plain, Bradford, VT.