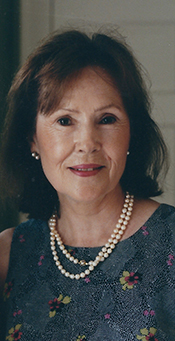 Renate Young, 79, passed away at Central Vermont Medical Center in Berlin on Friday, February 1, 2019. Born in Stuttgart, Germany, on October 7, 1939, she was the daughter of the late Friedrich Gustav Kapfer and Julian Hildegard Anna (Brenner) Kapfer. On December 15, 1969, she married Jay H. S. Young in Arlington, VA.
Renate grew up and attended schools in Germany. She continued her education at the Chalimbana Training College in Northern Rhodesia. As a young woman she was employed as a tour guide for ADAC Travel Services. She welcomed the opportunity to visit destinations around the world, one of which was Jamaica where she met her future husband, Jay, who owned the Plantation Inn in Ocho Rios.
Moving to the Mad River Valley in 1977, they purchased the Sugarbush Inn and Golf Course and in addition, developed Club Sugarbush and the Farms Town House Condominiums. Renate took great pride and pleasure specializing in indoor and outdoor plants in and around their businesses. She later enjoyed working as a hostess and baker for their eateries, Jay's Restaurant and the Spotted Cow, from which they both retired.
Renate enjoyed a good book, traveling to the Maine seacoast and spending time at home where she loved caring for her dogs and horses.
Renate is survived by her children, Melanie Young of Fayston and John H. Young III and his wife Alison and their daughter Hinson Catherine Young of Bermuda; a sister, Lotte Dorsh and her husband Walter of Stuttgart, Germany; as well as nieces and extended family. She was predeceased by three siblings, Erika, Brigette and Gustel.
Graveside memorial services will be held at a date and time to be announced in Bragg Hill Cemetery in Fayston. For those who wish, memorial gifts would be appreciated to the Mad River Valley Ambulance Service, P.O, Box 305, Waitsfield, VT 05673, or to your local humane society. Assisting the family is Perkins-Parker Funeral Home and Cremation Service in Waterbury. To send online condolences visit www.perkinsparker.com.