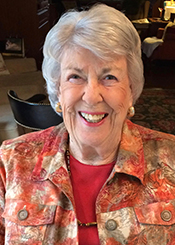 Alice Lee Shull, 91, commonly known as Lee and formerly of Drums, PA, passed away peacefully in Waitsfield, VT, in the comfort of her home and family on Thursday evening, January 31, 2019. Born in Hazleton, PA, on September 16, 1927, she was the daughter of the late Albert Conrad Leisenring II and Helen (Pardee) Leisenring. On February 24, 1962, she married William Richard Shull in Sybertsville, PA. William predeceased Lee on September 28, 2013.
Lee was a graduate of Dobbs Ferry 1945, attended DePauw University and Wood Tobé-Coburn School of fashion. She worked at Bonwit Teller and Strawbridge and Clothier as a young adult. She was active in her community. She served on the United Charities Board for many years and was supportive of the YWCA. She was an avid gardener and enjoyed playing golf, tennis, bridge and many other games. Her passion was traveling the world with her husband, children and grandchildren. She lived a full and good life and was sweet and loving to all she knew.
Lee is loved and mourned by her daughters, Jennifer Boland and her husband John of Waitsfield, VT, and their children John Boland Jr. of Boston, MA, and Sarah Boland of Waitsfield, VT; and Marjorie Shull-Toohey and her husband Michael and their daughter Samantha Toohey and her fiancé Matthew Borys of No. Scituate, RI; a sister, Elizabeth Doan and her husband Foster of Drums, PA; a brother, Albert Leisenring III and his wife Flora of Olympia, WA; as well as many nieces, nephews and extended family. Lee was predeceased by a daughter, Constance Shull, and a sister, Helen Vaughn.
Memorial services will be held in Conyngham Valley, PA, on a date and time to be announced. In lieu of flowers, memorial gifts can be made to Christ Evangelical Lutheran Church, P.O. Box 494, Conyngham, PA 18219, the Mad River Valley Community Fund, P.O. Box 353, Waitsfield, VT 05673 www.mrvcommunityfund.org), or the American Cancer Society (www.cancer.org). Assisting the family is Perkins-Parker Funeral Home and Cremation Service in Waterbury, VT. To send online condolences visit www.perkinsparker.com.