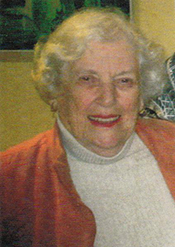 Eleanor Eckerson McIntyre, age 93, of Westview Meadows, Montpelier, died on Tuesday, January 29, 2019, at her home.
She was born in Pittsfield, MA, daughter of William S. and Ruth Noble Eckerson. She was a graduate of Westbrook and Wheelock Colleges. She married Hugh H. McIntyre in Pittsfield in 1950. She received great satisfaction from her involvement in parish life at Christ Episcopal Church, Montpelier, along with her continuous interest in Vermont's history and organizations associated with it.
She leaves one brother and sister-in-law, William N. and Bette Eckerson; a son, Henry Blodgett and wife Lucille McIntyre of Litchfield, ME; a daughter, Ann M. Maxfield of Morrisville. Six grandchildren, Jason and wife Marcey McIntyre, Sarah and husband Ryan Kelley, Benjamin and wife Nicole McIntyre, Andrew and wife Danielle Maxfield, Alexis and husband Tyler Demars and Abigail Maxfield. Twelve great-grandchildren and many nieces and nephews.
She was predeceased by her husband, Hugh H. McIntyre, on November 25, 2009.
The service will be at 11 a.m. at Christ Episcopal Church on Friday, February 8. There will no calling hours. Interment will be at the Pittsfield, MA, cemetery at the convenience of the family.
In lieu of flowers, friends may donate to Central Vermont Home and Health Hospice or a charity of your choice.