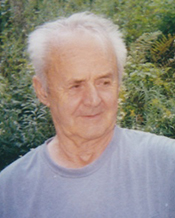 Robert William Santamore, 84, passed away at the University of Vermont Medical Center in Burlington on Thursday evening, February 7, 2019. Born in Duxbury on August 17, 1934, he was the son of the late William and Volene (Morse) Santamore. On March 17, 1978, he married the former Gloria J. Richardson in Waterbury.
Bob attended schools in Duxbury and then went to work for Cecil Percy who founded Steeple Construction. Bob traveled throughout Vermont, New Hampshire, New York and Maine repairing steeples, painting smokestacks and repairing and replacing innumerable roofs and lighting systems for over 40 years, from which he retired. In his leisure time he enjoyed sharing meals and company at the Waterbury Area Senior Center, hunting, fishing and spending time with his wife and children.
Bob is survived by his wife of 41 years, Gloria Santamore of Moretown; their children, Lori Farris and her husband Brian of Smyrna, TN, and Jeffrey Santamore of Northfield; a special niece, Wendy Richardson of Waterbury; two sisters, Ida Richardson of Waterbury and Irma Chastenay of Montpelier; four brothers, Russell Santamore of Duxbury, Harry Santamore of Berlin, Roger Santamore of Royalton and Harvey Santamore of Newport; as well as nieces, nephews and extended family. Bob was predeceased by three brothers, Maynard, Alan and Gordon Santamore.
It was Bob's request that services be private. For those who wish, memorial gifts would be appreciated to the American Cancer Society (www.cancer.org). Assisting the family is Perkins-Parker Funeral Home and Cremation Service in Waterbury. To send online condolences visit www.perkinsparker.com.