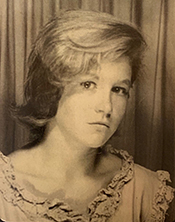 Kristen Marie Meyer, 70, of Warren, Vermont, passed away unexpectedly Friday, January 26, 2019, surrounded by her loving family.
Born in New York City to John and Lucille Meyer, Kristen was raised on Long Island and later moved to Vermont, where she attended Saint Michael's College. Kristen was a longtime resident of the Mad River Valley. She was employed as a loving caregiver to many disabled and elderly people in The Valley and was a loyal friend to many.
Kristen loved nature and animals, and pets were always a part of her household. She was a very creative person who, among other pursuits, enjoyed building fairy furniture. She had a quirky personality and sense of style, much to the chagrin of those who would gift clothes to her. She had a strong sense of humor and was most often seen smiling and laughing. Kristen was of deep faith and attended Saint Patrick Church in Moretown.
Kristen is reunited in heaven with her parents, John and Lucille Meyer, and her brother, Jack. Her spirit lives on in her children, Frank, Rachael and Michael; her grandchildren, Alex, Jordan, Sierra and Michael; her great-grandson, Brandon; her siblings, Paul, Janice and Janine; as well as many nieces, nephews and extended family.
A funeral Mass celebrating her life will be held on Saturday, March 2, at 11 a.m., at Saint Andrew Roman Catholic Church, 109 South Main Street, Waterbury, Vermont.
In lieu of flowers, memorial donations in memory of Kristen can be made to the Central Vermont Humane Society, 1589 VT Route 14, East Montpelier, VT 05651.