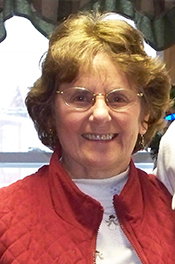 Joan C. Duffy, 83, a longtime resident of Waterbury Center, passed away in the comfort of her home and family on Sunday, February 17, 2019, while resting in her sleep. She had battled cancer the last months of her life. Born on May 22, 1935, in Waterbury Center, she was the daughter of the late Kenneth and Martha (Thurston) Gibbs. On October 16, 1953, she married Richard W. Duffy in Waterbury Center. Richard predeceased Joan on November 19, 1997. They had celebrated 47 years of marriage.
Joan worked for Bailey's Department Store as a teenager. While raising her two sons, Alan and Ryan, she made Moriarty hats and sweaters. Once the boys were in school, she went to work for the Vermont State Employees Credit Union from which she retired following 25 years of service. She was an active member at Waterbury Center Community Church, its Ladies Aide, and Queen Esther Lodge #7, OES.
For the past 16 years she's cherished a loving relationship with her partner, Larry Sweetser of Waterbury Center. They enjoyed trips all over the country. Day trips in Larry's convertible were a highlight for her. Larry was devoted to caring for Joan during her long illness.
Joan loved gardening, cooking, country music, fishing, hunting, traveling and most of all her family, sons and grandchildren. Her friends meant a lot to her as well as her loving dog, Dusty.
Joan is survived by her sons, Alan Duffy and his partner Donna of Bolton and Ryan Duffy and his wife Joann of Danville; her grandchildren, Shawn Duffy of CO, Lisa Duffy of Starksboro, Michelle Duffy of Deltona, FL, Laura Duffy of St. Johnsbury, Kyle Hoyt of Montpelier, Tina Hoyt of Bolton, Amanda Killam of Lyndonville and Nicholas Williams of Middlebury; 12 great- grandchildren; as well as extended family. Joan was predeceased by her siblings, Lorraine Sarabia, Paul Gibbs and Marie Russell.
Funeral services will be held from Waterbury Center Community Church on Saturday, February 23, 2019, at 11 a.m. with a reception to follow in the church dining room. Friends may call at Perkins-Parker Funeral Home in Waterbury on Friday from 6 to 8 p.m. For those who wish, memorial gifts would be appreciated to Waterbury Center Community Church, P.O. Box 216, Waterbury Center, VT 05677. To send online condolences visit www.perkinsparker.com