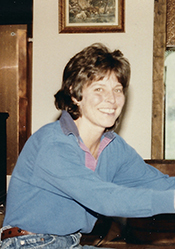 Tobie Showacre, mother, grandmother and friend, died peacefully in her Warren home with the comfort of her son and family on March 11, 2019. Born on September 22, 1940, she was the daughter of the late George W. and Salley (Horton) Huggler.
Tobie was a graduate of Radnor (PA) High School and continued her education for two years at Centenary University in Hackettstown, NJ, and following, she received her nursing degree from Bryn Mawr (PA) Hospital.
Tobie and her husband, William Showacre, moved to Northfield, VT, in the late 1960s and built their dream home on Showacre Lane. This is where Tobie started her family and her love of gardening began. After the sudden loss of her beloved husband, Tobie and her son, David, relocated to the Mad River Valley.
With a dream and a passionate sense of beauty, Tobie purchased an 1815 farmhouse in Warren. Over the years she renovated and restored this historical home with incredible attention to detail. In the late 1970s she opened and operated a store in downtown Waitsfield called Made in Vermont with a second location in Quechee, VT. Before the term Buy Local, Tobie was a proud owner and advocate for local business.
Among the many things Tobie enjoyed were golfing, skiing, gardening, landscaping, medical research, spending time with her dog, Otto, and in the last few years spending time with her two grandchildren. Her love of horticulture inspired the planting of over 250 blueberry bushes that are thriving to this day.
Tobie will be remembered for her incredible generosity. From all walks of life, she welcomed friends into her home. Her hospitality was remarkable. She always had an ear to listen and a home to come to. She was a friend to many. She loved to celebrate the joys and offer comfort during the sorrows. Tobie will be forever loved and dearly missed.
Tobie is survived by her son, David Showacre and his wife Melodie Showacre; her grandson, Sawyer Showacre; her granddaughter, Daisie Showacre; her two brothers, George Huggler and his wife Linda Huggler and David Huggler and his wife Anne Huggler. She was predeceased by her husband, William Showacre; her granddaughter, Blessed Angel Showacre; and her K-9 friend, Otto.
A service celebrating her life will be held later this spring at a date and time to be announced. For those who wish, memorial gifts would be appreciated to the Mad River Valley Ambulance Service, P.O. Box 305, Waitsfield, VT 05673; the Mad River Valley Community Fund, P.O. Box 353, Waitsfield, VT 05673; or St. Jude Children's Hospital (www.stjude.org). Assisting the family is Perkins-Parker Funeral Home and Cremation Service in Waterbury. To send online condolences visit www.perkinsparker.com.