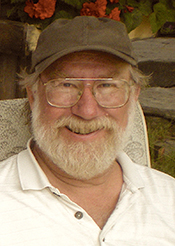 Dr. Harry Lorenz Rook, son of Donald Auger and Beatrice Mathiasen Rook, passed away on March 9, 2019, after living with cancer for many years. His wife and three daughters were by his side.
Harry spent his childhood in Windham, Connecticut, before attending Worcester Polytechnic Institute where he graduated with bachelor of science and master of science degrees in chemistry. He then earned a Ph.D. in nuclear analytical chemistry from Texas A&M. Harry spent his career of 27 years at the National Institute of Standards and Technology starting in the activation analysis lab, eventually becoming the activation analysis section chief before moving on to become the deputy director of Materials Science & Engineering Division. In 2001, Harry and his wife, Lois, fulfilled their lifelong dream of retiring to Vermont and the house that Harry had built with his father.
Harry loved his family first and foremost. He is survived by his wife of 55 years, Lois C. Rook; and his daughters, Kirsten Willett Rook and her husband Jason Willett of Baltimore, MD, and son Imani H. McCord of Boulder, CO; Dr. Martha S. Rook and her husband John S. Bearley and their sons Johnny and Jacob of Harvard, MA; and Emily L. Rook and her daughter Sofia of Maugansville, MD.
He was predeceased by his parents, his sister Dorothy Louise Rook Day and her husband John William Day, and is survived by their children and family: Jon M. Day Sr. and Pam Day of Norwich, CT, their children Jon M. Day Jr. and his wife Katie Day of Ledyard, CT, Sydney Day Shiffrin and husband Nicolas Shiffrin of Bolton, CT, and Samantha Day of West Hartford, CT, and nephew Jared N. Day of Windham, CT.
Harry loved fishing, golfing, hiking, sailing and sports cars. He was most at home out in nature or spending time with his buddies watching the game and discussing philosophy. He enjoyed life to its fullest and one of his mottos was "Life is good, if you let it be." He stayed involved in the scientific community as an active member of ASTM International and ISO committees and even took his grandson on his final trip to Europe to an ISO conference. His annual "ski trip" was a treasured tradition with friends, of whom Harry had many. He very much enjoyed entertaining and cooking for everyone and always opened a bottle or two of fine wine to share. He spent his golden years looking out onto the field he so carefully maintained and the beautiful mountain range beyond.
A memorial service is being planned for the spring. Anyone wishing to attend can request information by emailing This email address is being protected from spambots. You need JavaScript enabled to view it.. Gifts may be made in Harry's memory to Central Vermont Home Health & Hospice, 600 Granger Road, Barre, VT 05641 (www.cvhhh.org). Assisting the family is Perkins-Parker Funeral Home and Cremation Service in Waterbury. To send online condolences visit www.perkinsparker.com.