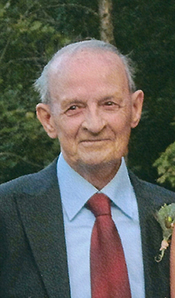 Donald James Demas, 81, passed away peacefully in his sleep in the comfort of his Northfield home on April 2, 2019, with his family by his side. Born November 7, 1937, in St. Albans, he was the son of the late Orson P. and Donna (Buckner) Demas. On September 1, 1956, Donnie married Nancy L. (Eurich) in Waitsfield. Donnie graduated from Waitsfield High School and went on to enlist in the U.S. Army Reserves for two years. Donnie drove a logging truck, worked for Norris Gallagher as a carpenter and soon after in 1968 started what has resulted in a third generation of Demas Builders.
Donnie coached his son's Little League baseball team, was a deacon of Waitsfield United Church of Christ, was a member of the Waitsfield-Fayston Volunteer Fire Department and a member of the Waitsfield Mad River Masonic Lodge No. 77. He also enjoyed reading, cooking and baking, hunting and was an avid Boston Red Sox and Celtics fan. His proudest accomplishments were his children, grandchildren and great-grandchildren.
Donnie is survived by his children, Anthony Demas and his wife Dyanne, currently of FL, and Terri Stridsberg and her husband David of Berlin; three grandchildren, Tyler Demas and his wife Kate, Brent Hallock and Brittney Hallock; six great-grandchildren, Tiahna Hallock, Tayden and Nakyah Lawliss, Latoya Buck and Abigail and Ethan Demas; two siblings, Earl Demas of HI and Donna Hutchins of TX; as well as many nieces and nephews.
His wife, Nancy Demas, and son, Alan Demas, predeceased him.
A celebration of Donnie's life took place at Waitsfield United Church of Christ in Waitsfield on Monday, April 8, 2019, at 11 a.m. with a reception following in the church dining room.
The family requests that flowers be omitted; rather memorial gifts would be appreciated to Central Vermont Home Health & Hospice, 600 Granger Road, Barre, VT 05641 (www.cvhhh.org). Assisting the family is Perkins-Parker Funeral Home and Cremation Service in Waterbury. To send online condolences visit www.perkinsparker.com.