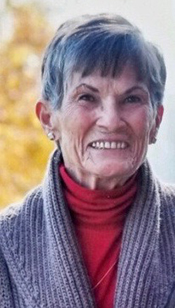 Ruth M. Lake, 80, formerly of Goodland, KS, passed away at Central Vermont Medical Center in Berlin, VT, on Monday evening, April 22, 2019. Born in Limon, CO, on March 29, 1939, she was a daughter of the late Henry and Syble Rae (Johnson) Kanzler. On December 14, 1958, she married Paul A. Lake in Limon, CO. Paul predeceased Ruth on August 25, 1986.
Ruthie had a "never say never," compassionate, fighting spirit that saw her through happy and tough times. As a child she grew up in poverty with her father, mother and eight siblings. She was a survivor through the tragic loss of her husband, Paul, in 1986, who she remained true to until her last day, and then the tragic loss of her youngest son, Tobey, in 1996. She was a two-time cancer survivor. It was her strong will and primary purpose in life to take care of her family that kept her moving forward and blessed us with 25 additional beautiful years. (This allowed her to enjoy the final chapter of her life, which included helping raise her two amazing grandsons, Tobey and Braedon.) She shaped our lives with wonderful storytelling, the constant reminder to "stop and smell the roses," parental advice to teach right from wrong and never lose the ability to keep laughter in your life. She will be missed.
Ruth is loved and mourned by her children, Tiffini Lake-Bellows and her husband Jay of Waterbury. Troy Lake and his wife Kelly of Waterbury Center, and Tracy Lake and his wife Cheri of Lenexa, KS; eight grandchildren, Amanda, Ali, Andrew, Kady, Ben, Brianna, Tobey and Braedon; a sister, Charlotte Larson of CA; three brothers, Melvin Kanzler of CO, Clifford Kanzler of CA and Lester Kanzler of WA; as well as nieces, nephews and extended family. Ruth was predeceased by a son, Tobey Lake, on April 18, 1996.
A service celebrating the life of Ruth Lake will be held from Perkins-Parker Funeral Home in Waterbury, VT, on Saturday, April 27, 2019, at 11 a.m. In lieu of flowers memorial gifts would be appreciated to the Department of Palliative and Spiritual Care, CVMC, P.O. Box 547, Barre, VT 05641. To send online condolences visit www.perkinsparker.com.