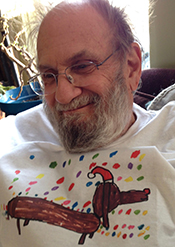 On May 29, 2019, Ronald LaBrusciano turned the final page of the hand-bound book that comprised his life. Ron's legacy as an educator, mentor and connoisseur of fine pizza will live on in his four children, Chris LaBrusciano, Anne LaBrusciano, Peter LaBrusciano (Hillary Gardner) and Sarah LaBrusciano; his six grandchildren, Ruby LaBrusciano-Carris, Ella LaBrusciano-Carris, Theo LaBrusciano-Carris, Lorenzo LaBrusciano, Nico LaBrusciano and Nevin LaBrusciano; and the many students and former colleagues throughout New England, across the country and around the world.
Ron was born on June 10, 1939, to the late Romeo and Jeanne LaBrusciano and grew up in Mamaroneck, NY. He is preceded in death by his brother, Jerry LaBrusciano, and his dear son Paul. Ron attended undergraduate at Marquette University in Milwaukee, WI, and graduate school at the University of Massachusetts College of Education.
While Ron grew up in New York, he spent the majority of his life in his beloved New England. His work as an innovative childhood educator spanned from Convent of the Sacred Heart in Greenwich, CT, to Waitsfield Elementary School in Waitsfield, VT, Amherst, MA, and into The Prospect School in Bennington, VT, and Brattleboro, VT. Ron completed his career as an educator mentoring hundreds of early childhood educators at Antioch Graduate School in Keene, NH. His gentle style of child-focused, project-based, early childhood education has served as an inspiration to teachers far and wide.
But what Ron loved most was relating to little children. Whether through his work in helping to found KidsPLAYce in downtown Brattleboro, volunteering at many community events and schools at and around his cherished home in Marlboro, VT, or scooping Ron & Timmy's ice cream outside of the Circus Smirkus big tent, Ron could always be seen making genuine connections with kids as he listened to and inspired smiles in all he came in contact with.
Friends and family are invited to celebrate Ron's life and work at a memorial celebration at KidsPLAYce, located at 20 Elliot Street, Brattleboro, VT, from 5 to 7 p.m. on Saturday, June 15. In the spirit of Ron, this will be a kid-friendly event and children of friends and family are encouraged to attend. This event will also serve as a fundraiser to raise money for KidsPLAYce in Ron's memory. In lieu of flowers, please send donations to KidsPLAYce, P.O. Box 1093, Brattleboro, VT 05302, in memory of Ron LaBrusciano.
Ron will be dearly missed, but like he always said, "That's the way the mop flops" and "That's how the cookie crumbles." We love you. "Gotta go bakeshop."