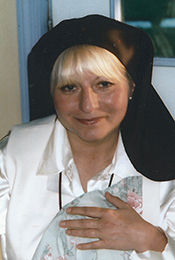 Dyan M. (Hiller) Walker (Sr. Kateri Nehemiah Walker) passed peacefully into the arms of her Beloved Savior early Saturday morning, June 8, 2019, after a long and courageous battle with cancer. Born May 20, 1949, in Ontario, Canada, she was predeceased by her loving husband, Keith Walker.
She leaves behind an enduring legacy of love and grace, as she tirelessly shared her love of her Lord with all whom she met. Dyan was an active member of the Community of the Crucified One in Moretown and Pittsburgh, PA, where her greatest joys were to serve around the Lord's altar at Sunday Mass and to intercede in prayer for those in need, particularly the orphans in Kenya where she was instrumental in helping to establish an orphan feeding program for Everyone's Child.
She loved her springer spaniel kids, Monster Mac, Molly and Kippy, and leaves behind her constant companion Oliver, "Ollie," from whom she was rarely separated.
Her love of Jesus and her constant desire to see all whom she met come to a saving relationship with the God she served was evident in every day of her life. From the medical staff to the person she met in the grocery store parking lot, Jesus' love for all shone brightly through her. She loved the Lord's gift to us in nature; sitting on her porch amid the flowers, particularly morning glories, was one of her favorite pastimes in the last few years. She was particularly fond of taking car rides and going on adventures, taking unknown roads to see where they would lead her and enjoying a picnic along the way. Her zest for life and her appreciation for things that were normally taken for granted were all things that made Dyan the special person she was. She will be greatly missed by all who knew and loved her.
A celebration of her life will be held at the Church of the Crucified One, 20 VT Route 100 South, Moretown, on Friday, June 14, 2019, at 11 a.m. Arrangements are with Perkins-Parker Funeral Home and Cremation Service in Waterbury. To send online condolences visit www.perkinsparker.com or the funeral home Facebook page.