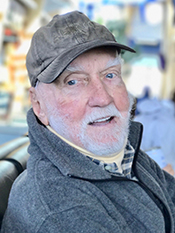 Arthur John Miller Jr. passed away in the comfort of his home on June 17, 2019, surrounded by loving family. Arthur was born in New York on November 5, 1928, to Helen Mary and Arthur John Miller Sr.
He grew up next to Long Island Sound in Douglaston and cut his teeth learning to sail on the Sound's choppy waters. He took his love of sailing with him throughout his life and in his later years spent many hours on Lake Champlain on his yawl Carillon.
Ranking right up there with Arthur's sailing ability was his skill in shooting. He often went duck shooting in Great South Bay and told tales (proven with pictures) of the many geese he had taken. Arthur's skill was recognized when in the army at a very young age he taught marksmanship at West Point.
Arthur raced cars in his teens and, while in the army, learned to fly his own plane. There was no challenge from which he would turn away.
His business career took him from radio broadcast sales in New York to running a marina in New Jersey to real estate in Florida and to owning and operating Village Grocery in Waitsfield.
Arthur married the love of his life, Barbara Kolins, in 1971 and together they discovered skiing in Vermont. They made the decision to make The Valley their home and moved to their home in Warren in 1982.
Arthur retired in 1992 and spent his remaining years pridefully taking care of his home and traveling with his wife until he became too ill to continue.
He is predeceased by his parents and his sister, Helen. Arthur is survived by Barbara, his wife of 48 years; his daughter, Melissa Miller; son, Arthur John Miller III; and daughter, Erica Hintze, along with son-in-law Robert Hintze, grandsons Miller and Summit Hintze; granddaughter, Robin Pawlikowski along with her husband Paul and great-granddaughter Chloe Pawlikowski; and granddaughter, Penny Miller and her fiance Joseph Valdes.
Say what you will about Arthur, he was a force to be reckoned with and had a wicked sense of humor. You might disagree with him, but you always knew what he truthfully thought. He will be sorely missed.
In lieu of flowers, the family asks that donations be made to the UVM Memory Center in Colchester, Vermont, to Central Vermont Home Health and Hospice or to the Alzheimer's Association. Cremation will be managed by Perkins-Parker Funeral Home in Waterbury and a private family celebration of life will be held in the fall. To send online condolences visit www.perkinsparker.com or the funeral home Facebook page.