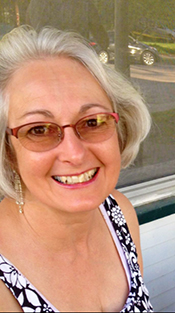 Deborah M. (Mitchell) Cousino, 62, of Waterbury, VT, passed away peacefully in the beautiful palliative care room at CVMC in Berlin during the early morning hours of June 15, 2019, after a heroic battle with colon cancer. Born May 8, 1957, in Johnson City, New York, she is the daughter of the late Robert (Gordon) Mitchell and Mary (Mrva) Mitchell.
Better known as Debbie to her hometown friends, she attended Union-Endicott High School, Endicott, NY, claiming the title of homecoming queen, the first female athlete ever to do so. She also proudly played in the Orange Bowl with her marching band, graduating in 1975. Deb went on to receive a B.S. in education from SUNY Cortland, NY, in 1979 and shortly thereafter moved to Vermont and never left.
Deb made an impact throughout The Valley, teaching at Warren Elementary School and Precious Moments Preschool (the Community of the Crucified One), where she is known and loved as Sr. Joseph to her students and Franciscan brothers and sisters. For a short time, she enjoyed teaching at St. Monica's Catholic School in Barre and, finally, came to rest in her most recent position as a paraeducator, soccer coach and athletic director at Crossett Brook Middle School.
While teaching was ingrained in her soul, Deb also made a name for herself at the Sugarbush Sports Center in her early Vermont years playing racquetball and as their in-house neuromuscular therapist; she then went on to start her own business, Mountain Massage. From there Deb embraced work with Cooking from the Heart Catering, A Spice of Life Catering, the former Valley Rent-All, and the one and only My Mom's Hot Dog's, a hot dog cart she and her dear friend Amy took a risk on and flourished, selling hot dogs at craft shows and events throughout the Mad River Valley with their kids in tow.
Deb thrived when traveling, enjoyed early years of heli-skiing and loved kayaking, bike riding, cross-country skiing and other outdoor activities. She was a wine and food enthusiast, always ready to enjoy a glass of wine and some "stinky cheese" on her front porch with friends and family. If given the opportunity to turn up the music and dance, she would grab the first person within reach and dance away; many will remember her joy of dancing in the kitchen. Her greatest love is the love she had for her children and grandchildren and thus she is best known, even to her students, as Mimi.
Deb is loved and cherished by her husband, Leonard (Joshua); her children, Morgan Rogers and husband Josh, Luke Dollmeyer and Sydney Dollmeyer, and her grandchildren, Amaya, Piper and Dylan Rogers; her brothers, Dennis Mitchell and wife Ildi and James (Jimmy) Mitchell; as well as her nieces, extended family and her unwavering group of friends that helped her through this battle.
The family would like to extend a heartfelt thank you to Dr. Eswar Tipirneni and his oncology team for their kindness and support throughout Deb's fight with cancer. To Kelly and Jack Wood, who accompanied Deb to every oncology appointment, opened their home for hospice care, and welcomed family and friends, without hesitation. Finally, we would like to thank all of you who have supported Deb through this battle; you are appreciated.
A memorial service to honor and remember Deb will be held Thursday, June 20, at 11 a.m. at the Hunger Mountain Christian Assembly, 4940 Waterbury Stowe Road, Waterbury Center, VT 05677. Calling hours were held from the church on Wednesday, June 19, from 5 to 7 p.m.
Assisting the family is Perkins-Parker Funeral Home and Cremation Service in Waterbury. To send online condolences visit www.perkinsparker.com or the funeral home Facebook page.