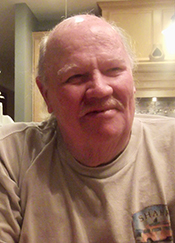 Herbert J. Williams III, 73, of Warren, VT and Delray Beach, FL, passed away in Warren on Monday, June 24, 2019. Born in Manhattan, he was the son of the late Herbert J. Williams Jr. and Mary S. (McVeigh) Williams.
He received his bachelor of science in economics from the University of Tampa and continued his education at Rhode Island College where he earned his master's degree in health education. An educator for 33 years, he taught school in Newport, RI, from 1969 to 2002 as well as owned and operated Bayside Landscape for 33 years in Jamestown, RI.
Following his retirement, Herb took courses at Yestermorrow Design/Build School in Waitsfield, VT, where he pursued his love of woodworking and creating his own furniture from cherry trees on his property. He later learned woodturning and woodcarving to make custom bowls and other creations for family and friends.
Herbert found great joy in spending time with his family, especially his grandchildren.
Herb is loved and mourned by his wife, Mary M. Williams of Warren and Delray Beach, FL; his children, Elizabeth Palan of Bethesda, MD, Daisy Scarzello of Northfield and Herbert J. Williams IV of Newport, RI; his six grandchildren, Chloe, Nina and Owen Palan of Bethesda, MD, Lucciana, Vitalia and Evalina Scarzello of Northfield; and his three siblings, MaryAnn Walker, Thomas Williams and Deborah Williams.
It was Herb's request that no public services be held. For those who wish, memorial gifts would be appreciated to Yestermorrow Design/Build School, In Memoriam of Herb Williams, 7865 Main Street, Waitsfield, VT 05673 (www.yestermorrow.org). Assisting the family is Perkins-Parker Funeral Home and Cremation Service in Waterbury, VT. To send online condolences visit www.perkinsparker.com or the funeral home Facebook page.