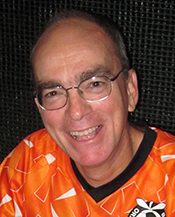 Scott A. Chamberlain, 65, passed away in the comfort of home and family in Warren, VT, on Friday evening, June 28, 2019. Born in Brighton, MA, on July 10, 1953, he was the son of the late Fred A. Chamberlain and Teresa Hayes. On November 8, 1975, he married the former Kristin Phillips in Sudbury, MA.
During Scott's life he attended 84 major league baseball games, 18 Broadway performances, 43 band concerts including elementary school, middle school, high school and college marching band shows, 52 community theater performances, 36 dance recitals, and 284 youth basketball games. He coached one youth ice hockey team and one youth basketball team. He performed in six ballet performances. He lived in six states, 14 homes and one castle. He skied 642 days at Sugarbush. During his 25 years at General Motors he assisted 223 dealers and sold 4,328 cars. He worked at three dealerships and owned two of his own. In heaven, he will be greeted by eight dogs, one hamster, 14 goldfish and two parakeets. While living in The Valley he rescued one horse and one baby moose. As a runner he completed six half marathons, 12 10Ks and 23 5kK. He helped to raise $41,973 for Team BIDMC for his children to complete the Boston Marathon in 2015, 2016 and 2017. After he survived the "widow maker" heart attack he was diagnosed with cancer. Treatment included one heart surgery for two stents, one kidney removal, two lung surgeries, two brain surgeries, 24 doses in HDIL2 over 28 days, 12 drug trials, 18 cancer medications, six rounds of radiation and 43 CT scans. He spent 64 days at the Walt Disney World Resorts over 16 different trips eating 112 Mickey Premium ice cream bars. As a lover of sweets, he ate 428 chocolate cakes, 64 pounds of fudge, 5,324 brownies and as an owner of 550 M&M vending machines he consumed 1,234,567 M&Ms.
Scott is survived by his wife of 43 years, Kristin Chamberlain of Warren, VT; their children, Kira H. Chamberlain and her husband RJ Austin of Orlando, FL, and Adam J. Chamberlain and his wife Rachael of Attleboro, MA; two granddaughters, Caitlyn and Emma Chamberlain; his siblings, Christine Chamberlain and her husband Paul Vilcans, Julie Caouette and her husband Barry, Neal Chamberlain, George Chamberlain and his wife Suzanne, Michael Chamberlain and his wife Bonnie Rudner, and his sister-in-law, Shauna Chamberlain; as well as nieces, nephews and extended family. Scott was predeceased by two brothers, Fred Chamberlain and Douglas Chamberlain.
A graveside service will be held from the South Fayston Cemetery, Fayston, VT, on July 14, 2019, at 1 p.m. In honor of Scott, please wear orange, which is the kidney cancer color. For those who wish, memorial gifts would be appreciated to Beth Israel Deaconess Medical Center: 617-667-7330 or www.bidmc.org/give. Please choose "other" and assign to Kidney Cancer Research, Attn: Dave McDermott. Assisting the family is Perkins-Parker Funeral Home and Cremation Service in Waterbury, VT. To send online condolences visit www.perkinsparker.com or the funeral home Facebook page.