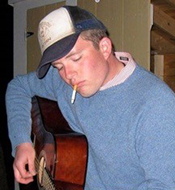 Robert Bartholomew Lynch, 38, of Moretown, Vermont, passed away on June 28, 2019, in Austin, Texas, after a long struggle with drug and alcohol addiction. He recently had been released from an alcohol recovery program and was preparing to return to Vermont. Robert was born April 20, 1981, in Burlington, Vermont. He attended Moretown Elementary School, Harwood Union High School and the University of Vermont, where he studied political science and philosophy.
Robert – aka Bob, the legend, Robere, Bob Dole, Goulet – was, like his father and brother, a car fanatic and was always in the fast lane. His other passion was music, and though he couldn't read music, he rocked the keyboard and guitar. A friend wrote after hearing of Robert's death: "I remember Robert, about age 16 or 17, playing his guitar and being the cool cat with his hair, the hat and the beautiful, genuinely warm smile that he would give us when he looked out at us from the porch."
Robert attracted a large circle of friends, drawn to his humor, his music, his style and his bigger than life personality. Robert enjoyed a spirited debate and liked to take the opposite point of view, often causing his opponent's blood pressure to rise. He loved gardening, cooking and spending time with his family dogs. One of his favorite places to be was at the ocean in Nahant, MA, spending time with his family and especially his grandpa.
By his mid-20s Robert had lost his footing and couldn't find his place in this life. His health issues became severe and he joined the millions who are addicted to opiates, a horrible epidemic. He entered a downward spiral that he worked hard to overcome, often taking one step forward but two steps back.
His parents hope that somehow Robert's death will encourage others to reach out and show friends who are in trouble that they are loved. They want others to know it's important not to give up hope and never give up their fight for recovery. Many have asked what they can do to help. One answer is to forgive yourself and be kind, because we all grieving something.
Robert is survived by his parents, John and Vee Lynch, and his brother, Mac.
A celebration of his life will be held at Mad River Glen on August 17, 2019, from noon to 3 p.m.
Friends are invited to sing, play music or tell stories in remembrance of Robert. Please bring food to share.
Contributions in Robert's memory may be made to the Central Vermont Humane Society in Montpelier.