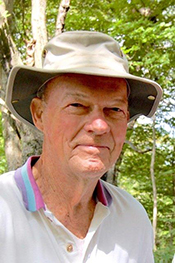 Harold Paige Shea, known as "Mike," decided to leave us on Monday, July 22, after a well-lived 92 years. He put up with Alzheimer's in his last years, but he had a very good run. Mike was both highly accomplished and very kind, two traits that don't always go together. As a fifth generation Vermonter, he appreciated the outdoors, believed in physical activity and enjoyed simple pleasures. He was an avid skier, golfer, tennis player, fly fisherman and deer hunter. He was committed to his family, his community and his church. Later in life, he enjoyed travel, hiking and an active lifestyle in Naples, FL, during the winter months. While he was passionate about exercise and nutrition, he never turned down his mother's blueberry pie or anyone's Christmas fudge.
Mike was born on August 31, 1926, in Montpelier, the son of Dorothy Paige Shea and Harold Francis Shea. He attended Saint Michael's Catholic High School, graduating as valedictorian in 1944 and was a three-letter athlete. He enrolled at Dartmouth College, the first in his family to attend college, but joined the army in 1945 to contribute to the war effort, returning to Dartmouth in 1946. He graduated in 1950 and returned to Vermont to work at Paige and Campbell Insurance, a company founded by his grandfather, Charles Coburn Paige. He married Claire Margaret Murrin on October 6, 1951. The couple lived in Montpelier and raised five children. Claire predeceased him in 1981. He then married Margaret Bliss Jennings in 1984, who passed away in 2002.
Mike was well-known in the insurance community in Vermont, serving as president of the Vermont Insurance Agents Association in 1967 and later serving as state director of the National Association of Agents until the mid-1970s. He also participated in significant community service activities throughout his lifetime, including trustee of the board of Central Vermont Medical Center as well as serving on the local board of the Howard Bank. Mike became a member of the Lake Mansfield Trout Club, Inc. in 1963 and served on its Insurance Committee for nearly 50 years. He also was a member of the Montpelier Rotary Club (Paul Harris fellow), the Elks and the National Ski Patrol, first at Mad River Glen and later at Bolton Valley Resort, for over 35 years. He was a congregant at St. Augustine's Catholic Church for most of his life.
Mike leaves his five children, Steven, Brenda (Raymond LaRochelle), and Brian (Maureen Charron Shea), all of Waitsfield, VT; Jonathon (Barbara Morrison) of Fayston, VT; and Lynne, of Brattleboro, VT. He also leaves grandchildren: Devlin Shea of Seattle, WA; KaLii LaRochelle of Worcester, VT; Ian and Nell Shea, of Waitsfield, VT; Caitlin Shea of Hudson, NY, Kelsey Shea of Lake Nebagmon, WS; Bridget Shea-Gander of Taos, NM, and Michaela Shea-Gander of Chicago, IL. He also leaves Margaret's children, Patrick Jennings, Bradley Jennings and Megan Jennings Tucker, as well as grandchildren, Abby Vipperman and Callen Jennings and Matthew Tucker. He is survived by his sister Ellen Brigham (Loriman Brigham) and his brother Charles Shea (Patricia Shea), as well as two dozen nieces and nephews. He was predeceased by his parents, as well as his sisters, Margaret Lahiff and Marolyn Palmer. He also will be remembered by long-term employees at Paige and Campbell. The family would like to give special thanks to John Jerger for his care of and affection for Mike during his last years at the Arbors residential community, and to his previous home caretakers, Doreen Keefe and Tina Campbell.
Mike was a life-long role model for his children and grandchildren; he never hired anyone to do something he couldn't do for himself, whether it was fixing an old blender, painting the exterior of his house in his late 70s, or prepping his cross-country skis. He will be greatly missed.
A Funeral Mass will take place at 11 a.m. on Saturday, July 27, at St. Augustine's Catholic Church in Montpelier, VT. Memorial donations can be made to the Alzheimer's Association.
Those wishing to express condolences online may do so at www.guareandsons.com.