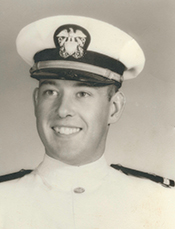 Roger Barton Pollander, 80, passed away peacefully at McClure Miller Respite House in Colchester on Friday evening, August 2, 2019. Born in Barre on June 24, 1939, he was the son of the late Jay and Ada (Miller) Barton. At the age of 9, Roger was adopted by Landon "Pete" O. Pollander and Beatrice C. (Trudo) Pollander.
Roger was a 1956 graduate of Waterbury High School and continued his education at the University of Vermont, graduating in 1961 with a degree in civil engineering. While enrolled at UVM, Roger put himself through school working at the Burlington Red Cross where he met his life partner, Janet Tinker, who was employed as a medical technician. They were married on July 7, 1962, in Burlington.
Roger began his career with the New York State Agency of Transportation employed as a civil engineer. With the prospect of being drafted to serve in Vietnam, Roger enlisted in the U.S. Navy and was eligible for Officer Candidate School (OCS) which he attended in Newport, RI. Upon OCS graduation, he served his country at various stations, both national and international, and was honorably discharged into the Naval Reserve at the rank of lieutenant junior grade.
Roger went to work for Grumman Aircraft in Bethpage, NY, where he was an engineer in research and development, and he worked several years for Dravo Contracting Co. as a supply officer building the Shoreham Nuclear Power Plant on Long Island Sound.
Moving to Waterbury in 1975, Roger was employed for a number of years at IBM in Essex where he maintained and repaired equipment. Following his retirement, Janet and Roger embarked on a number of trips, both regional and cross country, to visit family and to enjoy the vast variety of scenic beauty throughout the United States.
In retirement, as an avid animal lover, he followed his entrepreneurial dream by founding one of the first ever pet-sitting businesses, VT Pet Watch. This allowed him to connect with many people in the community by caring for a variety of animals at their owners' homes, a service which was appreciated and a labor of love.
Roger was a member of the former Waterbury Lions Club, the Waterbury Volunteer Fire Department and the Waterbury Recreation Committee and he coached Little League. He was a longtime driver for the Waterbury Ambulance Service. A voracious reader, Roger truly enjoyed the company of a good book, and as an innate tinkerer he was naturally gifted in fixing anything mechanical or electrical.
Roger is survived by his wife of 57 years, Janet T. Pollander of Waterbury Center; their children, Tracey L. Olson of Stowe and Mark S. Pollander of Malta, NY; a sister, Norma Wimble; as well as nieces, nephews and extended family. Roger was predeceased by a sister, Leona Wheeler, and a brother, John Barton.
A memorial reception will be held from the dining room at the Waterbury Congregational Church, 8 North Main Street, Waterbury on August 24, 2019, from 1 to 3 p.m. For those who wish, memorial gifts would be appreciated to North Country Animal League, 16 Mountain View Meadow Road, Morrisville, VT 05661 (www.ncal.com), or the Waterbury Ambulance Service, P.O. Box 95, Waterbury Center, VT 05677 (www.waterburyambulance.org). Perkins-Parker Funeral Home is assisting the family. To send online condolences visit www.perkinsparker.com or the funeral home Facebook page.