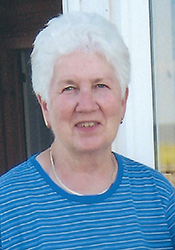 Patricia L. Towne, 85, passed away peacefully in the comfort of her family on Sunday evening, August 4, 2019, at Central Vermont Medical Center in Berlin. Born in Duxbury on February 24, 1934, she was the daughter of the late Raymond G. and Mary Jane (Callahan) Reagan.
Growing up in Moretown, Pat was a 1951 graduate of St. Michael's High School in Montpelier and continued her education at the former Bishop DeGoesbriand School of Nursing in Burlington, graduating in 1954 as a registered nurse. On October 9, 1954, Pat married Gerald L. Towne in Moretown. Gerald predeceased Pat on July 5, 2011.
Pat began what would become a 38-year career in nursing at the former Heaton Hospital in Montpelier. She later worked as a home health nurse for Waterbury Home Health (now Central Vermont Home Health and Hospice) and then served as the school nurse at Waterbury Elementary School, retiring in 1992.
Her memberships included the Catholic Daughters of the Americas – Court St. Theresa, St. Andrew Catholic Church and the Waterbury Area Senior Center, all of Waterbury.
Pat is lovingly remembered for the joy she found in the company of a good book, solving word search puzzles, following the trials and successes of the Red Sox, spending time with family and close friends visiting Ogunquit, ME, Prince Edward Island and Montreal and the fun she and Gerald had with the gang at pool parties and snowmobiling. Family, faith and friends were the sustaining factors in her life.
Pat is loved and celebrated by her children, Sharon Ward and her husband Calvin of Moretown, Susan Towne and her husband Donald Planche of St. Lazare, Quebec, Sarah Black and her husband Benjamin of Morrisville, and Steven Towne of Essex Jct.; her grandchildren, Colin Ward, Caitlin Ward, Chelsea Conway, Shannon Conway, McKenna Black, Alyson Black and Anna Towne; a great-grandson, Mason Quenneville; her sister, Linda Ferrera of Peabody, MA; sisters-in-law, Brooke Conger of Essex and Margery Irish of NC; as well as nieces, nephews and extended family. Pat was predeceased by a brother, Bernard Reagan.
A Mass of Christian Burial will be celebrated from St. Andrew Catholic Church in Waterbury on August 16, 2019, at 11 a.m. with a reception to follow in the church parish hall. For this special event, extra parking will be available in the State Complex parking areas. Inurnment will take place in Maple Street Cemetery, Waterbury Center. For those who wish, memorial gifts would be appreciated to the Waterbury Ambulance Service, P.O. Box 95, Waterbury Center, VT 05677 (www.waterburyambulance.org), or the Waterbury Area Senior Center, 14 Stowe Street, Waterbury, VT 05676. Assisting the family is Perkins-Parker Funeral Home and Cremation Service in Waterbury. To send online condolences visit www.perkinsparker.com or the funeral home Facebook page.