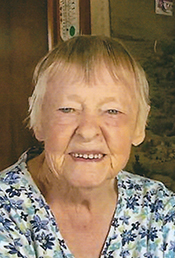 Joyce "Dolly" Reagan, 87, a longtime Moretown resident, passed away peacefully in the comfort of her home and family on Monday evening, September 2, 2019. Born in Winooski on March 19, 1932, she was the daughter of the late Evard and Bernice (Cushing) Norris. On October 1, 1951, she married Cedric C. Reagan in Waterbury Center.
Dolly was a 1950 graduate of Montpelier High School. She spent her early years in the Burlington area. At the age of 15 she moved to Moretown. Her first job was in the sock department at Woolworth's department store. While busy raising her family she operated her own housecleaning business in the Mad River Valley; she later worked for the Mad River Valley Transfer Station and the Moretown General Store, from which she retired.
Her memberships included the Moretown Historical Society, of which she was a founding member, and the Moretown PTA. She enjoyed playing softball in her younger years, and she will be fondly remembered as Mrs. Claus passing out candy canes at the Moretown General Store. She enjoyed knitting, ceramics and jigsaw puzzles, and everyone enjoyed her baked beans and blackberry pies.
Dolly is truly loved and mourned by her husband of 68 years, Cedric Reagan of Moretown. What started as a ride on his 1948 Indian motorcycle turned into a long and wonderful life together.
Dolly is survived by her children, Denise Gabaree and her husband Joe of Moretown, Dale Reagan and his wife Rae of Moretown, and Rebecca Zinn and her husband Wally of South Hero; seven grandchildren and two great-grandchildren; a sister, Lois Sorgen of North Fort Myers Beach, FL; a very close sister-in-law, Sandy Reagan of Moretown; a son-in-law, Owen Wimble of Waitsfield; nieces, nephews and extended family. Dolly was predeceased by her daughter, Beth A. Wimble, on July 9, 2002; and five brothers and six sisters.
A gathering to celebrate the life of Dolly will be held on Sunday, September 8, 2019, from the Moretown Town Hall, from noon to 2 p.m. Private inurnment will take place in the family lot in Mountain View Cemetery in Moretown. For those who wish, memorial gifts can be made to a charity of one's choice. Assisting the family is Perkins-Parker Funeral Home and Cremation Service in Waterbury. To send online condolences visit www.perkinsparker.com or the funeral home Facebook page.