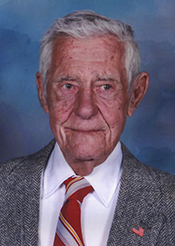 Wallace "Mac" H. MacDonald of Montpelier passed away September 7, 2019, after a short illness. He was born November 2, 1928, on the family farm in Charleston, VT, and grew up there surrounded by a large and loving extended family. This family network was an integral part of his life as his father, Wallace, passed away prior to his birth.
After graduating from Brighton (VT) High School in 1946 he served for two years in the U.S. Army in Germany immediately following World War II. Following his service, Mac furthered his education at Bentley College and the University of Rhode Island, earning accounting degrees at both institutions.
On August 14, 1954, he married Cynthia Stafford in Montpelier. They were married over 63 years until her death in 2018. Over the course of their marriage they lived in Rhode Island, New York and, for the last 50 years, Vermont.
After graduation from URI, Mac had a long career in the financial services industry with New York, National and Northwestern Mutual insurance companies in both finance and sales.
He also donated time to local charities including the Boy Scouts (Green Mountain Council), Washington County Mental Health and Vermont Association for the Blind.
In retirement, he took great pride in maintaining his home in Montpelier and, during the summer, the family farm in Charleston. He enjoying both hosting and visiting friends and relatives. Together, Cynthia and Mac also traveled extensively throughout North America and Europe.
He leaves his son Bruce, daughter-in-law Karen, and grandson Asa MacDonald. He also leaves four nephews who were like sons to him, John, Scot, Kevin and David MacDonald, and a niece, Heather MacDonald Shaughnessy. In addition to Cynthia, he was predeceased by a son, Douglas; mother, Effie; and five siblings, Raeburn, Irene, Keith, John and twin sister Pat MacDonald. Being the last of three generations of a large farm family, he was also predeceased by his extended family of uncles, aunts and cousins who were very influential throughout his life.
A memorial service will be held at 1 p.m. on Saturday, September 14, 2019, at Christ Episcopal Church at 64 State Street, Montpelier, VT.
In lieu of flowers, donations can be made in his memory to the Island Pond Historical Society or the Central Vermont Humane Society.
Those wishing to leave condolences online may do so at www.guareandsons.com.