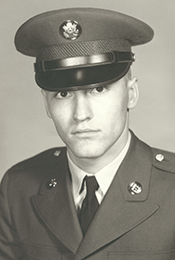 Clayton Earl Wells, 72, a lifelong resident of Waterbury, passed away at Central Vermont Medical Center in Berlin on Friday morning, September 13, 2019. Born in Hardwick on August 2, 1947, he was the son of the late Stanley E. and Florence (Eastman) Wells. He was previously married to Sandra (Richardson) Hennessey. On February 12, 1988, Clayton married the former Beverly Miller in Waterbury Center.
Clayton attended schools in Waterbury and Harwood Union High School. Enlisting in the U.S. Army, he served his country during the Vietnam War from 1966 to 1969 and following his honorable discharge, joined the Vermont Army National Guard from which he retired in 2007.
During his service with the Guard, Clayton also served as a police officer with the Waterbury Village Police Department for several years and co-owned and operated South End Sunoco in Waterbury with his wife Bev, his son Kevin and stepdaughter Sherrie James. He retired following a stroke.
His memberships included the Harry N. Cutting American Legion Post 59, VFW Post 10034, both of Waterbury, the Waterbury Center Volunteer Fire Department and the DAV. In his leisure time he enjoyed hunting and fishing with his sons, playing cards, spending time at his camp on Camel's Hump and racing snowmobiles in his younger years. A true people person, Clayton's outgoing personality and gift for conversation nurtured his joy of visiting with folks and created many friendships over the years.
Clayton is survived by his wife of 31 years, Beverly Wells of Waterbury; his son, Scott Wells and his wife Angela of Waterbury Center; his daughter-in-law, Joanne Wells of Waterbury Center; his stepchildren, Pamela James and her husband Andrew, Sherrie James and her husband Steven, and Richard Ravelin and his fiancee Emilee Scott, all of Waterbury Center; his grandchildren, Cody and Kerry Wells, Jacob and Clayton Wells, Jennifer James, Casandra and Christopher James, Asa Woodard, Cameron Ravelin, Emma Ravelin, Piper Ravelin, Richard Ravelin II and Asia Scott; a sister, Elaine Sumner and her husband Stanley of Montpelier; a brother, Nathan Wells and his wife Mary of Barton; as well nieces, nephews and extended family. Clayton was preceded in death by a son, Kevin Wells, and a brother, Nathaniel Wells.
Funeral services will be held from Wesley United Methodist Church in Waterbury on Wednesday, September 18, 2019, at 11 a.m. Interment will follow in the Maple Street Cemetery in Waterbury Center. For those who wish, memorial gifts would be appreciated to the Waterbury American Legion, P.O. Box 417, Waterbury, VT 05676, or to the Waterbury Area Senior Center, 14 Stowe Street, Waterbury, VT 05676. Assisting the family is Perkins-Parker Funeral Home and Cremation Service in Waterbury. To send online condolences visit www.perkinsparker.com or the funeral home Facebook page.