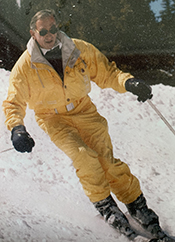 Werner W. "Chuck" Weiss of New York City and Warren passed away September 9, 2019, at Lenox Hill Hospital in NYC after a brief illness days shy of his 95th birthday. His wife, Helen (Schwarz), of 67 years and his children, Wally (Helen) of NYC and Fayston and Audrey (Michael) of NYC, as well as all four grandchildren, Emma, Daniel, Isaac and Mark, were at his side.
Chuck was born in Munich, Germany, to Walther S. Weiss and Dr. Dora Kleinhaus Weiss. From an early age, with his mother, he learned to ski and love the mountains. In 1939 at the age of 14, his parents put him on a train with dozens of other children and sent him to England (the Kindertransport) not knowing if they would ever see each other again.
After two years he left school and at 17 got a job as a clerk in a trucking company. A year later he learned his parents managed to get out of Germany and had made their way to the U.S. He was reunited with them in New York and almost immediately tried to enlist in the army. A month later he was drafted. After basic training in Alabama he volunteered and was accepted into the newly formed 10th Mountain Division. They trained for almost a year at Camp Hale in Colorado before being sent to Italy.
Chuck was a technical sergeant in 85th Regiment Company L. They fought the bloodiest battles and had the highest casualties in the war. They took Riva Ridge and Mt. Belvedere and fought all the way to Austria. Chuck was one of the very few to never have been wounded. He received the Bronze Star and a battlefield commission.
After the war he returned to New York and graduated with honors from the NYU School of Engineering. It was at that time he started leading weekend ski bus tours out of New York. After discovering Mad River Glen, he knew he found his second home. In 1951 he met and in 1952 married his beloved Helen. They were inseparable for 67 years.
He worked for a time for the U.S. Navy, then Benson and Hedges before entering the garment industry, first at a knitting mill and then his own business of fabric finishing.
Over the years he taught his children and grandchildren to ski and love the mountains at Sugarbush and Mad River Glen. During the summers he loved the pool and tennis courts at Drumleys and the Mad River Valley in general. The Valley and all his friends here were very dear to him.
He touched so many lives and was loved by all who knew him. His funeral took place with a military honor guard and he was interred in New York.