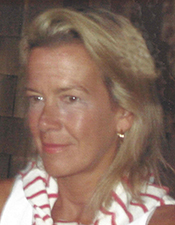 Ann Bailey Cain ("Anny"), of Jamestown, Rhode Island, beloved wife, mother, sister, cousin and friend, passed away October 4, 2019, at Philip Hulitar Hospice Center in Providence, Rhode Island. Anny was born to Everett Clark Bailey and Doris Doerfler Bailey on May 16, 1955, in Burlington, Vermont. The third of four children, she was raised in the Burlington area, attended local schools and graduated from South Burlington High School in 1972. After high school, she attended the Berklee School of Music in Boston and pursued a singing career in New York City before returning to Vermont. Anny graduated from the University of Vermont School of Nursing as a registered nurse. Anny worked passionately in different nursing specialties for over 40 years, including surgical/operating room, OB-GYN and oncology in Vermont, Florida and Rhode Island.
She is survived by her husband, David E. Cain Jr. of Jamestown, RI; her son, Tappan Little of Colchester, Vermont; and her stepchildren, David E. Cain III (Nancy Turner) of Waitsfield, Vermont, and Eliza Cain (Randy George) of Moretown, Vermont. Anny leaves two brothers, Thomas Bailey (Linda) of South Burlington, Vermont, and E. Clark Bailey of Salt Lake City, Utah. Anny leaves nephews, Spencer (Jacki) and Skyler (Crystal), and her niece, Rachel (David), all of Vermont. Anny leaves very special cousins, Daniel and Mary Jo Davis of West Burke, Vermont, and Carol Kelly of Portland, Maine. Anny came from a large family including many cousins in Vermont, Maine and New York.
Anny and David renewed an earlier relationship, marrying on February 18, 1995. For both, it was the love of their lives. They enjoyed many happy years together at their home in Fayston, Vermont, before moving south to the village of Jamestown on the lovely island of Conanicut in Rhode Island.
Anny had a happy and fulfilling life – living every minute with unbridled enthusiasm – she was a breath of fresh air to all whom she met! She enjoyed sailing, skiing, swimming, singing and dancing (and the Boston Red Sox). She was very social, making friends easily by bringing warmth and humor to whoever she met and whatever she did.
A memorial service will be held on Saturday, October 12, 2019, at 11 a.m. at St. Matthew's Episcopal Church, 87 Narragansett Avenue, Jamestown, Rhode Island. In lieu of flowers, contributions may be made to Jamestown Fire Department-Emergency Medical Services Division at 50 Narragansett Avenue, Jamestown, RI 02835. For full service details, please visit www.FaganQuinnFuneralHome.com.