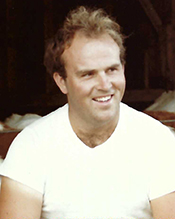 Walter H. Gaylord, 62, a lifelong resident of Waitsfield, passed away peacefully at Mayo Residential Healthcare Center in Northfield on Thursday morning, October 17, 2019. Born in Montpelier on May 26, 1957, he was the son of the late Hadley M. and Eloise G. (Heath) Gaylord Sr. On May 21, 1988, he married Claire Ewald in Waitsfield.
Walt was a 1975 graduate of Harwood Union High School. As a young man he worked on the family farm in Waitsfield with his two brothers, Hadley and Allen. He also worked for the town of Waitsfield road crew. It's at Hap's Service Station that people will remember him, first alongside his father, and in the later years with his brother, Allen. He incorporated the business in 1988, and in 2012 he purchased his brother's share of Hap's. In 2013, when due to declining health he could no longer work, his wife, and then in 2017, daughter, stepped in, and they will continue to operate the service station.
He enjoyed hunting and had a lifelong love of farming and the outdoors, as well as animals of all kinds. He was always willing to lend a hand or add a quick ad-lib or quip during a conversation or work. He was a man of compassion, devotion and honor proven with his love of life through family, friends, neighbors and community.
Walt is survived by his wife and partner of over 30 years, Claire Ewald of Waitsfield; his daughter, Paige Gaylord of Waitsfield; his siblings, Phyllis Mayville and her husband John of Milton, Pearl Vargas of Waitsfield, Hayden (Dennis) Gaylord of Berlin, Hadley Gaylord Jr. of Waitsfield, Allen Gaylord of Waitsfield, Peter Laskowski of Waitsfield and Michael Bonotto of Princeton, NJ; as well as extended family.
A reception to celebrate the life of Walter will be held in the Village Meeting House at Waitsfield United Church of Christ on October 27, 2019, from 2 to 5 p.m. For those who wish, memorial gifts can be made to Mad River Valley Community Fund (www.mrvcommunityfund.org), Mad River Valley Ambulance Service, P.O. Box 305, Waitsfield, VT 05673 (This email address is being protected from spambots. You need JavaScript enabled to view it.), or Addison County Humane Society (This email address is being protected from spambots. You need JavaScript enabled to view it.). Assisting the family is Perkins-Parker Funeral Home and Cremation Service in Waterbury. To send online condolences visit www.perkinsparker.com or the funeral home Facebook page.