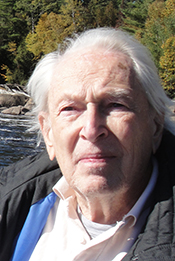 January 8, 1927 – November 1, 2019
Bob Gow recently remarked that he "was the last leaf on the tree" of his generation of his family. A man who loved trees from his childhood, it was fitting that on his next to last day he was picking out a spot to plant a new blue spruce with his daughter Mary and friend Sharon Dwinell, enjoying a beautiful late autumn day.
Born January 8, 1927, in Binghamton, NY, Robert Millard Gow died at the UVM Medical Center on November 1, 2019, after a very brief decline. Bob grew up in Endicott, NY, graduated early from Union Endicott High School in order to enlist in the U.S. Navy during World War II.
After the Navy he studied at Hamilton College, as had his father, uncle and brother. Bob met Helen Hudda at Oquaga Lake during the summer of 1949, they married the week after their college graduations in 1950.
Bob worked as general manager for the family-owned Magic City Ice and Milk Company in Endicott from the early 1950s to the sale of the company in 1968.
In 1969, Bob and Helen decided to buy and run a ski lodge. After searching through New England, they purchased Helen's choice, the Christmas Tree Inn in Warren, 50 years ago this month. It was a move they never regretted. With the ski lodge culture of the times, they spent a quarter of a century there, with interesting guests, the joviality of the Red Nose Room, the first tennis court in the Mad River Valley with lights to play at night, and the addition of Christmas Tree Condominiums. They sold the Inn in 1993, retiring to live at the Bridges.
Bob savored life to the very end. He played golf for 80 years and was celebrated for his wicked short game — a reputation that he believed was overstated. A voracious reader, he was endlessly curious and showed his friends and family that at 92, there was still much to learn about the world. Most years, he visited the Gatineau Club, a hunting and fishing club in Quebec purchased by his father in 1937. Years, owners, its isolation changed, but Bob cherished time there on lakes, river and in the woods, including a spectacular fishing trip there with his granddaughters and great nephews in 2017.
Bob was predeceased by his wife Helen Gow, his son-in-law Steven Hewitt, and his brother James Gow. He is survived by his daughter Mary Gow and her daughters Elizabeth and Emily Hewitt, niece Andrea Patten, her sons Dave and Rob McGrath, and cat, Spats.
A celebration of life will be held in the coming weeks.