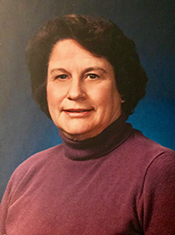 Glenda Ann Ramey, 82, passed away peacefully after an extended battle with diabetes and dementia at Birchwood Terrace Rehabilitation and Healthcare Center in Burlington on Monday morning, December 2, 2019. Born in Tinmouth, VT, on September 1, 1937, she was a daughter of the late Marshall and Rose E. (Dubeau) Frederick.
Glenda was a graduate of Burr and Burton Academy in Manchester, VT, and continued her education, graduating from cosmetology school in Albany, NY. A chance meeting in a restaurant in Manchester, VT, sparked the beginning of a lifelong partnership with Milford Ramey. They were wed on October 7, 1961, in Manchester.
Following her marriage, Glenda was happy and busy raising her children and being a homemaker. She later utilized her training as a cosmetologist and opened her own business, the Center Beauty Shop, which she operated from 1982 until her retirement in 2016. Near the end of her career, she plied her hairdressing.
Glenda was actively involved in several organizations which included Waterbury Grange #237 and Emerald Rebekah Lodge #33 and was a longtime Girl Scout leader. In her leisure time she enjoyed genealogy, camping throughout the Green Mountain State and gardening, both flower and vegetable.
She is fondly remembered for her devotion, support, love and affection that she had for and shared with her family.
Glenda is survived by her husband of 58 years, Milford Ramey of Waterbury Center; their children, Bindy Kirk and her husband Wendall of Waterbury Center and Scott Ramey and his wife Kristin of Southington, CT; six grandchildren, Christopher Martin, Katie Martin, Samantha Ramey, Griffin Ramey, Amber Ramey and Bradley Jodoin Jr.; as well as nieces, nephews and extended family. She was predeceased by a daughter, Joann "Jodi" Jodoin; two grandchildren, Gregory Martin and Jenson Ramey; and three sisters, Beverly Comar, Madeline Secoy and Barbara Dubeau.
A service celebrating the life of Glenda Ramey will be held from Wesley United Methodist Church in Waterbury on December 14, 2019, at 11 a.m. with a reception to follow in the church dining room. In lieu of flowers memorial gifts would be appreciated to Waterbury Ambulance Service, P.O. Box 95, Waterbury Center, VT 05677 (www.waterburyambulance.org). Assisting the family is Perkins-Parker Funeral Home and Cremation Service in Waterbury. To send online condolences, visit www.perkinsparker.com or the funeral home Facebook page.