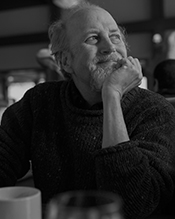 David Draycott Barash, age 64, of Waterbury Center, passed away peacefully at his home on February 11, 2020.
David was born on December 30, 1955, in Doylestown, PA, the son of Theodore and Elise Ludeke Barash. He is survived by his wife of 38 years, Juliet Barash; two children, Molly and Cole; daughter-in-law, Alix; and granddaughter, Iya Willow. Additional survivors include his siblings, Phoebe, Timothy and Mahlon. As well as many other close family members, friends and business colleagues.
So many people were touched by David in so many ways. He was an incredibly loving, optimistic and hardworking human being.
Throughout David's life, he devoted his work toward helping others and growing small businesses in an environmentally conscious and socially responsible manner. Some included Shelburne Farms, Ben & Jerry's, Burton Snowboards, Autumn Harp, VT Energy Investment Corporation and Brimstone Consulting. He was an avid lover of nature and active supporter of land conservation efforts. In his free time, he much enjoyed spending time with his family, hiking throughout the Green Mountains, and reading The New York Times either by the woodstove or in a hammock.
A Celebration of Life for David will be held in the barn at Sleepy Hollow Ski and Bike Center in Huntington, VT, on February 28, 2020. Pre-gathering begins at 1 p.m. Remarks begin at 2 p.m.
Please RSVP: This email address is being protected from spambots. You need JavaScript enabled to view it..
Assisting the family is Perkins-Parker Funeral Home and Cremation Service in Waterbury. To send online condolences and to read a more complete obituary visit www.perkinsparker.com or the funeral home Facebook page.