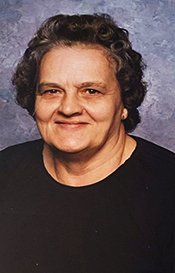 Marion Richardson, 89, formerly of Waitsfield, VT, passed away on Thursday, February 6, 2020, in Laconia, New Hampshire.
Marion was born on April 6, 1930, in Waitsfield, VT, the daughter of George Brothers and Luna Mae Nelson.
Marion married Francis Griffin in 1947 and shared the military lifestyle while Francis was in the military. Together they had nine children. Later in her life she married Gerald Richardson in 1993 and returned to her home in Waitsfield.
Marion loved living at her camp and caring for the land that surrounded her. She always loved the outdoors, fishing, hunting and being independent. Anyone who knew her would agree she was a strong woman.
Marion is survived by her children, Phyllis, Doug, Francis Jr., Evelyn, Jeffrey, George, Richard, Cheryl and Andy. She is also survived by her grandchildren, great-grandchildren and great-great-grandchildren whom she loved dearly. She was the last of her siblings to survive and often spoke of the troubles she experienced from losing her brother and father at a young age. Her grandfather played an important role in her life growing up.
Marion will be missed by all.
A memorial service will be held on Saturday, March 7, 2020, at 1 p.m. at Waitsfield United Church of Christ, 4355 Main Street, Waitsfield, VT 05673.
Wilkinson-Beane-Simoneau-Paquette Funeral Home & Cremation Services, 164 Pleasant Street, Laconia, NH, is assisting the family with the arrangements. For more information and to view an online memorial go to www.wilkinsonbeane.com.