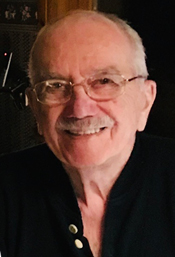 Andrew Henry Carpenter, 88, of Waterbury Center passed away on his birthday in the comfort of his home and family on Friday, October 23, 2020. Born in Hardwick on October 23, 1932, he was the son of the late Henry E. and Elsie (Farnham) Carpenter. On July 16, 1951, he married Selma C. Izor in Waterbury. Selma predeceased Andy on July 31, 2020.
Andy was a 1949 graduate of Waterbury High School. On August 15, 1950, he and Selma got engaged. In September of that year he joined the Army National Guard A Battery, 206th FA Battalion, all this before his 18th birthday. After his marriage, he was deployed to Munich, Germany. Upon his return, he started a long and successful career at the Rock of Ages Corporation in Barre. He held various positions over the years and in 1984 he was named vice president of the quarry division, a position he held until his retirement in 1991.
Andy enjoyed hunting, fishing, snowmobiling and bowling as a young man, he also enjoyed woodworking -- he made many beautiful items for his home. He followed his son Scott's racing career at Thunder Road and beyond, and ran errands for his business. He spent time clearing and maintaining his property, so he could enjoy what he calls the best view off Route 100. In his own words he said he was "lucky to enjoy a long and useful life." He had a longtime friendship with the gang which included Charlie and Kay Mason, Pat and Gerald Towne and Dick and Rena Izor. Together they spent many Saturday evenings dancing the night away at the Legion and enjoying innumerable pool parties at their home.
Andy is loved and mourned by his family and his children, Andrea Barber and her husband Charles of Waterbury Center, Scott Carpenter and his wife Lisa of Waterbury Center; seven grandchildren, Eric Barber-Isaac and his wife Marla of Tucson, AZ., Megan Barber and her partner Linus Wesley of Stockholm, Sweden, Bryan Barber of Concord, NH., Jamie Carpenter and his partner Mary Sanders, Jennifer Keiser, Justin Ainsworth and Kyla Ainsworth, all of Waterbury Center; five great-grandchildren, Ava and Khloe Carpenter, Dakota Richardson and Cohen and Carly Ainsworth; three brothers, Bernard Carpenter and his wife Marilyn of Fairfax, VA., Bob Carpenter and his wife Sandy of Calcium, NY., Brian Carpenter of Santa Rosa, CA.; one sister Judy Harriman of Hendersonville, NC.; as well as nieces, nephews and extended family. Andy was predeceased by his sister Euretta Carpenter.
Services will be private and interment will take place in Holy Cross Cemetery in Duxbury with military honors. For those who wish, memorial gifts would be appreciated to Central Vermont Home Health and Hospice, 600 Granger Road, Barre, VT. 95641 (www.cvhhh.org.). To send online condolences, visit www.perkinsparker.com.