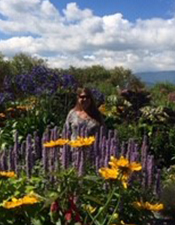 Patricia Oliel, 61, passed away peacefully on Wednesday March 17, 2021 (Saint Patrick's Day) at the Hospice House of Sarasota, Florida. She was surrounded by loved ones.
She was born in Pennsylvania. She moved to Brussels, Belgium, with her family for a few years, then returned to Valley Forge, PA. She attended high school in New Canaan, Connecticut. She moved to the Mad River Valley the year she graduated from Franklin Pierce College, Class of 1982, and made The Valley her permanent home for most of her adult life. Her friends knew her as Patsy.
She loved living and working in The Valley. She worked part time at both Sugarbush Resort and as a realtor for Mill Brook Real Estate in Waitsfield. She enjoyed skiing and long walks in the woods with her dogs. She lived to travel; did a semester abroad in Aix en Provence, France, as an exchange student, and later traveled to many exotic places throughout her lifetime. She enjoyed experiencing different cultures, cuisines and became an avid cook. She was a world citizen and was deeply troubled by extremist views and racism. Patsy was also a true animal lover and had both dog and cat companions throughout the years.
She moved to Florida to assist her aging parents, enjoyed a warmer climate and settled into a quiet neighborhood with kind neighbors.
Patsy suffered from a chronic kidney condition from age 17. She was fortunate to have received two different kidney transplants in her lifetime. One early on from her mother, and later, one from an anonymous donor. She continuously had to fight the side effects of immunosuppressive drugs and underwent multiple surgeries to keep her alive. She faced all of these setbacks with valiant courage, but finally chose not to fight anymore, and succumb to her illness.
May she rest in peace.
She was predeceased by her father, Serge Oliel and will be deeply missed by her family, Monique Oliel of Venice, FL, sister Chantal Ferland and husband James Ferland of Lincoln, VT, her two nephews; Timothy and Gregory Martin of NYC, and Austin, TX.
In memory of her, the family will always think of March 17 as St. Patsy's Day.
In memorium –
God's Garden
God looked around His garden
And He found an empty place.
And then He looked down to earth,
And saw your tired face.
He put His arms around you,
and lifted you to rest.
God's garden must be beautiful
He always takes the best.
He knew that you were suffering,
He knew you were in pain,
He knew that you would never
Get well on earth again.
He saw the road was getting rough,
And the hills were hard to climb,
So, He closed your weary eyelids,
And whispered, "Peace be thine."
It broke our hearts to lose you.
But you didn't go alone,
For part of us went with you,
The day God called you home.
--Author: unknown