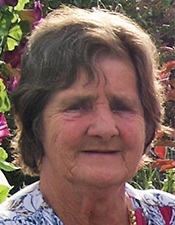 Juanita R. Blake, 72, of Waterbury passed away unexpectedly in her son's home on Sunday afternoon, April 4, 2021. She was born in Williamstown on September 19, 1948, to the late George and Leona (Rutledge) Ramsey.
On February 21, 1965, Juanita married Ronald E. Blake in West Newbury. Shortly after they started a family, they moved to Waterbury where Juanita was a great mother and also watched many children for her neighbors. Later Juanita became a housekeeper at the Holiday Inn in Waterbury before changing jobs to work for the O'Brien Cleaning Service of Waterbury. Juanita worked for O'Brien for many years. Later Juanita worked on her own cleaning houses to eventually cleaning only a short list of people, John and Val Vincent being her last clients (whom she cherished) before retiring in 2018.
In her leisure time Juanita enjoyed spending time with family, enjoyed watching her sons and grandchildren race at Bear Ridge Speedway where Juanita was a very vocal supporter. She also enjoyed crosswords and word search puzzles as well as being outside as much as possible. Her son Brian got her a dog, Rebel, who Juanita loved as well. Not to say the least, Juanita immensely enjoyed seeing her great-grand babies Layla and Arabella on a daily basis. Juanita loved spending time with family.
Juanita is loved and mourned by her family. She is survived by her sons Brian Blake of Waterbury, Edward Blake of Northfield, Jason Blake and his wife Dawn of Duxbury. Juanita also has 12 grandchildren: Corey Blake, Jonathan Blake, Bonnie Boyce, Matthew Blake, Joseph Blake, Heidi Martin, Taylor King, Elizabeth King, Nathaniel King, Jacob Blake, Maegan Blake-Whitaker and Ronald Blake II and three great-grand babies: Jasmine Campbell-Blake, Layla Whitaker-Blake and Arabella Whitaker-Blake. Juanita is predeceased by a granddaughter, Rebecca McCann; two sisters, Dolly Alger and Verna Belanger; and her husband of 50 years, Ronald Blake.
A graveside service will be held at the Middlesex Center Cemetery later this spring or summer. For those who wish memorial gifts would be appreciated to Central Vermont Home Health and Hospice, 600 Granger Road, Barre, VT 05641 (www.cvhhh.org). To send online condolences visit www.perkinsparker.com.