April 29, 1942 – March 29, 2021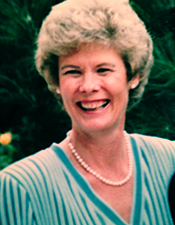 It is with profound sadness that we announce the death of our beloved wife, mother, grandmother and friend, Suzanne Meier. Suzanne died peacefully on March 29, 2021, surrounded by her family after a courageous battle with pancreatic cancer. Suzanne leaves behind her loving husband, Frederic J. Meier (Deri), her devoted children from her first marriage Linda (Austin), Victor (Fiona) and Heather (Robin) and stepchildren, Tim and Sarah (Greg). And Nan's eight -- the luckiest grandchildren in the world and Suzanne's greatest joy – Jack, Sarah, Owen, Olivia, Luke, Emily, Chloe and Stella. Suzanne was a loving daughter to Douglas and Margaret Seely, she was predeceased by her brother Stephen and her son-in-law Greg Gryllakis.
Suzanne was a Maritimer, born and raised in Halifax, Nova Scotia, attending Queen Elizabeth High School and then Mount Allison University before working at The Chronicle Herald. She married Sidney Oland in 1963, started a family and began an odyssey across Canada before settling in Toronto in 1976. There she built a life filled with her children, friends and sport – tennis, skiing and her Toronto Blue Jays.
In 1988, a new life beckoned, Suzanne married Deri and moved to the U.S., eventually retiring to Waitsfield in Vermont's Green Mountains. There she skied with the best at Mad River Glen, organized tennis tournaments, volunteered at the library and made countless trips back across the border as her grandchildren arrived. The door to Deri and Suzanne's ski house was always open welcoming friends and family. From camping in New England to summers in Tadoussac, Quebec, Deri and Suzanne had many adventures. They travelled to Europe, exploring the Cotswolds, attending Wimbledon and the French Open, skiing the Alps in St. Anton and listening to the Vienna Boys' Choir.
Suzanne's great passion was people and she felt blessed to have had deep and lasting friendships that sustained her and brought her joy. Her skill in connecting people and staying in touch has been made so clear through all the memories shared since her death. Whether dropping in on a neighbor or engaging with ICU staff, she was a breath of fresh air. Thank you to all who have told stories of her laughter, the fun, her spark, the small kindnesses that made your day or the big ones that helped you through a crisis.
Our sincere gratitude to the oncology, ICU and palliative care teams at the Central Vermont Medical Center in Berlin, Vermont. Your care and compassion for Suzanne and all of us will never be forgotten.
When COVID-19 lifts and the border opens and bubbles burst, we will hold celebrations of Suzanne's wonderful life. She deeply treasured her Canadian roots and she will be interred in Halifax. Until then, for all those who love her, please know that Suzanne died as she lived -- with courage, strength and grace. She was thinking only of others until her final moment -- some of her last words were "you're going to be okay, it will be hard for a while, but you'll be okay."
"How lucky I am to have something that makes saying goodbyes so hard." --A.A. Milne.