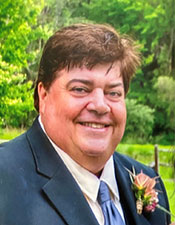 Taggert B. Haslam, 55, of Waterbury, passed away unexpectedly on Saturday, April 24, 2021. Taggert was an accomplished athlete and coach, a loving husband and father and a pillar of Waterbury's community.
Taggert was born at Tirathram Shah Hospital in New Delhi, India, to Herbert and Mary "White" Haslam on August 24, 1966.
Upon graduation, Taggert worked alongside his brother, Chris Haslam, in the construction industry for several years.
In 2013 Taggert began his career at Harwood Union High School, first working in the library and then becoming the technology coordinator for the entire school. Prior to this, Taggert was known for coaching the Harwood Union track team, which had blossomed into a prosperous career lasting over two decades. During his tenure, his core beliefs were that everyone deserves a chance and putting in the best efforts as a team, which led to multiple Harwood Highlander state championships.
Taggert found great enjoyment in forming lifelong relationships. In particular, the kids abd parents of the Clyde Whittemore Little League of Waterbury where he found his hidden talent of being "DJ Big Daddy Announcer" spending countless hours at local tournaments in Waterbury.
Taggert's biggest accomplishment was his daughter Amanda, who was his partner in crime, spending his time snow-fort building, late night star gazing and staying up until the early hours talking on the deck. He was always her no. 1 fan.
Taggert was also known for the way he could brighten up a room with his speeches which often came effortlessly. His power of positivity was one of his biggest attributes.
Taggert is survived by his life partner and wife of 32 years, Staci-Jo; his daughter, Amanda Leigh Purdy and her husband Daniel of United Kingdom; his sisters, Valorie and Elizabeth "Eve" Haslam; his brother, Christopher and wife Dyan; mother-in-law, Kathleen "Tippy" Lumbra; sisters-in-lawm Susan Lumbra and partner Jim Pitman, Denise Lumbra Green and husband Scott; brother-in-law Joseph G. Lumbra Jr. and several very special nieces and nephews.
Taggert was preceded in death by his parents, his father-in-law Joseph G. Lumbra Sr and brother-in-law Randall S. Dow.
Per Taggert's wishes there will not be a formal service, calling hours will be held on Friday May 7, from 4 to 6 p.m. at Perkins Parker Funeral Home, 48 South Main Street, Waterbury.
In lieu of flowers, donations can be made to the Clyde Whittemore Little League, c/o Kathy Cyr, P.O. Box 587, Waterbury, VT 05676.